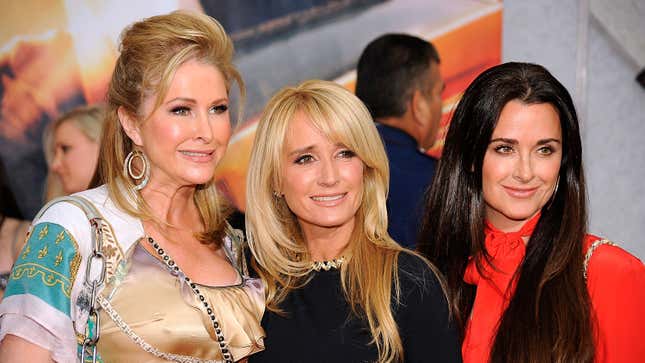 About once a year, when Real Housewives of Beverly Hills has ended its season and viewers collectively realize that nothing of any substance has happened in almost 24 hours of television, the Kathy Hilton rumors begin. Some anonymous tipsters run to the tabloids and claim that she was spotted with the cast, or that she's talking with producers. Sometimes the rumors claim she is negotiating a contract. Well, this season of RHOBH has ended with a thud, and the rumors are back again. Only this time, I'm sure of something: this show is suffering from a severe case of too many Richards sisters.

TMZ reports that Kathy Hilton is once again in talks to join the Real Housewives of Beverly Hills as a full-time cast member. Sources tell the outlet that producers approached Hilton, and that she hasn't made a decision on whether or not she'll accept their offer. Coincidentally, this news comes the same week that her daughter Paris Hilton's documentary, This Is Paris, was released. I'm sure it's nothing but a coincidence, clearly.

Real Housewives fans usually whip themselves up into a tailspin over these sorts of rumors, with Reddit, the gossip blogs, and Instagram meme accounts all salivating over what sorts of "secrets revealed" Hilton might bring to the show. After all, her sisters Kim and Kyle Richards formed the foundation for the franchise, acting as its guiding stars for a decade. In the show's first season, the feuding siblings and former child stars who just happened to be Paris Hilton's aunts cast a spell over viewers with their tale of childhood rivalry, grief, addiction, and a possibly stolen house. Over the next few seasons, the show intricately documented their relationship and how it began to warp the world around them, pulling in once uninvolved bystanders like the then only mildly famous Lisa Vanderpump, or Brandi Glanville, the jilted ex-wife of D-lister Eddie Cibrian.
Little did either of these two women know, the Richards sisters would be their springboard into fame, as well as their eventual downfall. For seasons, Vanderpump and Kyle Richards were thick as thieves, scheming and manipulating and overly producing the cast and the show from off-camera. Glanville, meanwhile, cozied up to Kim Richards, siding with the older Richards sister when Kyle and her fell out over... what was it again? Kim's addiction? The house Kyle allegedly stole from her? The fact that Kim, Kyle, and Kathy's mom apparently liked Kyle the best? We'll probably never know. But 10 years later, Kyle Richards would turn on Vanderpump, in a well documented, overly played out plotline. Vanderpump quit The Real Housewives of Beverly Hills as a result.
Glanville, meanwhile, found herself wrapped deeper and deeper up in the darkness surrounding Kim Richards. After Glanville abruptly exited the show in season six, Kim would see herself gone the next season. Both, however, would be back by season ten, to spill to Kyle about all the secret, super scandalous things newcomer Denise Richards had done with Brandi Glanville after a podcast recording. (Are you keeping up with all these Richards? There's a lot of them.)
Kim and Kyle Richards have sat at the apex of the Real Housewives of Beverly Hills for a decade. But as I've thoroughly documented, the drama they create has grown stale, even outright homophobic. And besides, after 10 years, it appears that Bravo producers have mined as far as they possibly could into the dark, interior lives of the Richards sisters. I don't want to watch Kyle cry about her mom anymore. I don't want to watch castmates huddle around to talk about and sensationalize Kim's "illnesses."
With my lips to God's ear, I'll say it just one more time: No more Richards sisters, please.