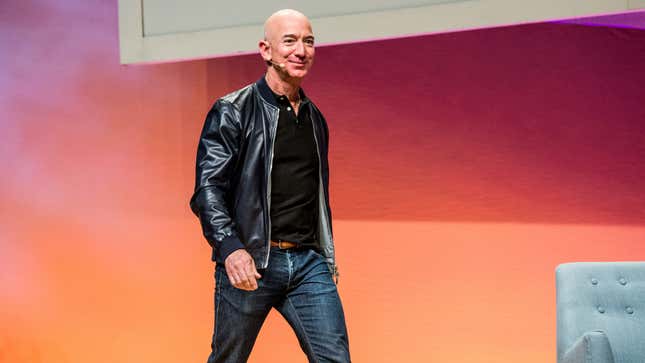 It has been scarcely two months since we first learned of the existence of Jeff Bezos's dick pics and his apparent habit of describing girlfriend Lauren Sanchez as "alive girl." Since then, we've learned much more—that it was Sanchez's brother Michael who reportedly leaked the sexts to American Media Inc., the parent company of the National Enquirer, and that he was reportedly paid $200,000 by AMI for the sexts.

And now the story is getting weirder. According to Gavin de Becker, the man Bezos hired to investigate the leak, the government of Saudi Arabia hacked Bezos's phone:
Our investigators and several experts concluded with high confidence that the Saudis had access to Bezos' phone, and gained private information. As of today, it is unclear to what degree, if any, AMI was aware of the details.
"We did not reach our conclusions lightly," de Becker continued, before sharing some details of his investigation:
The inquiry included a broad array of resources: investigative interviews with current and former AMI executives and sources, extensive discussions with top Middle East experts in the intelligence community, leading cybersecurity experts who have tracked Saudi spyware, discussions with current and former advisers to President Trump, Saudi whistleblowers, people who personally know the Saudi Crown Prince Mohammed bin Salman (also known as MBS), people who work with his close associate Saud al-Qahtani, Saudi dissidents, and other targets of Saudi action, including writer/activist Iyad el-Baghdadi.
In a Medium post written in early February, Bezos himself repeatedly brought up the possibility of a Saudi connection, but de Becker did not, however, share any evidence that the Saudi government hacked Bezos. In order to "respect" public officials pursuing the case, de Becker wrote, "I won't disclose details from our investigation." In a statement released on Sunday, AMI continued to claim that Michael Sanchez was the original tipster, and that "there was no involvement by any third party whatsoever."
Still, the odd ties between AMI, owned by staunch Trump supporter David Pecker, and Saudi Arabian leaders have long been documented. Last April, the Associated Press reported on a glossy magazine fawning over Saudi Arabia and Crown Prince Mohammad bin Salman, published by AMI and shared with Saudi officials weeks before its publication. "Why would American Media, best-known for publishing salacious stories of sex and scandal, sink money into printing 200,000 copies of a magazine with a grinning Crown Prince Mohammed bin Salman splashed across the cover?" the AP asked. Both AMI and Saudi officials denied any coordination.
Can this story get any more bizarre? The answer is always yes, right?