Leonardo DiCaprio's sexy (?) thriller The Beach from the year 2000 has not only polluted my mind; it is also responsible for environmental destruction on the actual beach the film was shot. Tourists have ruined it.
CBS News reports that Thailand's Maya Bay, on Phi Phi Leh island, will from now on be closed four months a year, every year, until people no longer want to reenact DiCaprio/French lady water fornication in the blue ocean. This is a movie about white people living in an utopian island world in which the two female characters are:
1. DiCaprio's love interest, who has no other discernible characteristics besides not needing to wear a bra.
2. Tilda Swinton, who blackmails him into having sex with her. As though Tilda Swinton would ever have to do that with anyone, ever.
Since The Beach was released nearly 20 years ago, tourism in Thailand has increased from about 10 million a year to 35 million, and Maya Bay is a focus point. The constant barrage of roughly 200 boats and 4,000 visitors every single day has exhausted the local coral reefs. You won't get to dramatically fight a shark on your visit, sorry, because there are none:
Recent surveys by a team led by marine biologists found a large part of the coral reefs around the area is gone and sea life has virtually disappeared.

"It's like someone who has been working for decades and has never stopped," said Thon Thamrongnawasawat, a prominent marine scientist and member of Thailand's national strategy committee on environment development. "Overworked and tired, all the beauty of the beach is gone. We need a timeout for the beach.
G/O Media may get a commission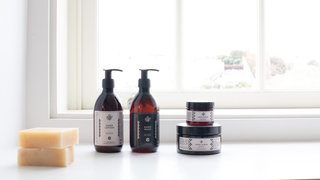 Exfoliate and Hydrate
The Handmade Soap Company
Most Thai marine national parks get to take the occasional break, usually from about mid-May to mid-October. Maya Bay has been open year round ever since tourist idiots realized they could the visit the island where they filmed the movie about tourist idiots visiting an island. There will also now be a 2,000 person a day cap on visitors, and no boats will be allowed to anchor in the area.
It is very sad for Leonardo DiCaprio, who loves boring nature, that his film is somewhat responsible for hurting the natural world. It is also sad because I cannot think of a movie that's less worth it than anti-shark propaganda feature, The Beach.