Welcome to Titanic Thursday. It is what it sounds like—a day to talk about the 1997 Academy Award-winning film Titanic.
If any person should have the perfect Instagram, it's Leonardo DiCaprio, an exorbitantly famous man who spends much of his life surrounded by slightly less famous friends.
But Leo does not have the perfect Instagram. No, instead of posting photos of himself vaping on a yacht with Lukas Haas and the entire Victoria's Secret catalogue like he SHOULD be doing, all he does is regram National Geographic photos and talk about the environment. PUH-LEEZE.
The dietary habits of polar bears are interesting and the welfare of the environment is obviously important, which is why many of us follow nature-themed accounts to begin with. The reason we follow Leo, on the other hand, is to see what it looks like Jonah Hill passes out on a pool float.
G/O Media may get a commission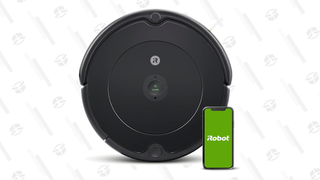 35% Off Black Friday Deal
iRobot Roomba 694 Robot Vacuum
Like Leo, I remember when Cecil was killed, much in the same way I remember when Justin Bieber attended Leo's New Years party. Guess which incident I'd rather be reminded of when scrolling through my feed. If you thought Cecil, then you are wrong.
(That said, Cecil, I'm sorry you died.)
Can't he post a photo of his view from a Citi Bike or something?
This perfect opportunity for a Titanic reference just crashed into him like an iceberg crashing into a cruise liner and he completely let it pass by.
I'm sleeping, Leo! You're putting me to sleep!
You know what would be even better? A curious J.Lo playfully rolling over in a booth at the Nice Guy. Wouldn't that be fun, Leo? Of course, it would. You two love each other.
Here's the thing: Leo is the best in the world—not at acting, but at being a celebrity. He's A list and keeps making enough movies to stay on the radar, he loves to go out and party at high profile clubs, and there are rumors about how he insists on fucking with headphones on. I mean, what a freaking legend. (And that's not even mentioning his casual sexual relationship with Rihanna.)
I'm not asking for much—just a small taste of that sweet, sweet Leomania. I saw Titanic 5 times in theaters, I had a Romeo + Juliet poster on the wall of my bedroom into COLLEGE, and I still have not one, but two Leo pins on my jacket. The way I see it, he OWES me and giving up the small amount of privacy that he has left—quite frankly—strikes me as a bargain.