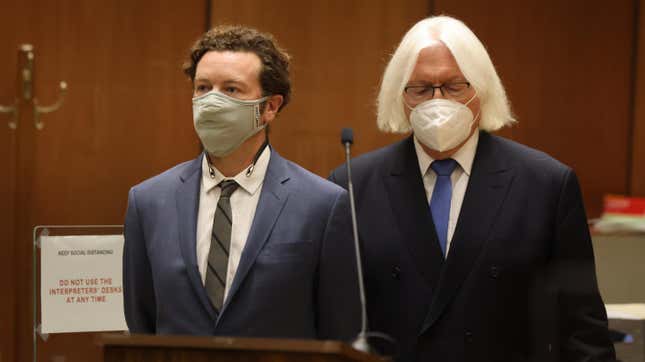 After eight days of jury deliberations in a retrial, Danny Masterson has been convicted on two out of three counts of rape. The That 70's Show actor and prominent Scientologist was accused of raping three women—all former members of the controversial "church"—between 2001 and 2003, at the height of his fame.
Is Emmy Rossum Old Enough To Play Tom Holland's Mom?
On Wednesday, as Masterson's conviction was read aloud in a packed courtroom, reporters noted that he sat "stone faced." Masterson was then handcuffed and taken to jail. Meanwhile, his wife, actor Bijou Phillips, reportedly let out a "pained cry" and audibly wept until Judge Charlene Olmedo asked her whether she needed to step outside the courtroom.
Following a mistrial in November 2022 wherein a jury was "hopelessly deadlocked, Olmedo ruled that Masterson would be retried in Los Angeles court, beginning in April. "It appears there are many other witnesses the people could choose to call or different arguments the people could choose to make," Olmedo, who denied a defense request to dismiss the case, said in January. "A different outcome at a retrial is at least a possibility."

Masterson's accusers, identified in court as Jane Does 1, 2, and 3, alleged that the actor violently raped them in his Hollywood Hills home. Given that all of the women were also Scientologists, the institution played a notable role in both proceedings.

"I am experiencing a complex array of emotions – relief, exhaustion, strength, sadness – knowing that my abuser, Danny Masterson, will face accountability for his criminal behavior," Jane Doe 2 said in a statement to Jezebel. "I am disappointed that he was not convicted on all counts, but take great solace in the fact that he, the Church of Scientology, and others, will have to fully account for their abhorrent actions in civil court."
Similar to the first trial, the jury was locked 8-4 toward a guilty verdict on the third count of rape stemming from Jane Doe 3's allegation against Masterson.
"I thank the jury for its service, and while I'm encouraged that Danny Masterson will face some criminal punishment, I am devastated that he has dodged criminal accountability for his heinous conduct against me," Jane Doe 3 said in a statement to Jezebel. "Despite my disappointment in this outcome, I remain determined to secure justice, including in civil court, where I, along with my co-plaintiffs, will shine a light on how Scientology and other conspirators enabled and sought to cover up Masterson's monstrous behavior."

Masterson's next hearing is set for August 4, 2023.