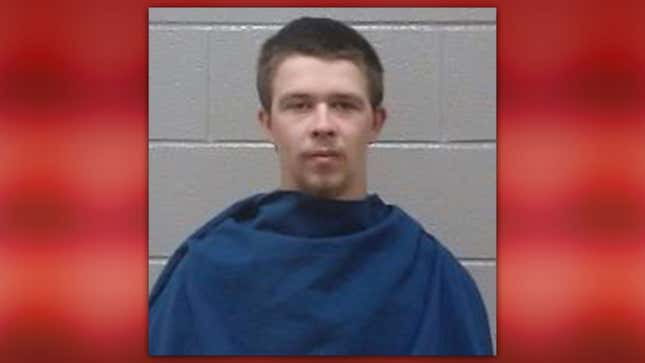 A Texas man assaulted a woman he impregnated and allegedly said he hoped it would lead to a miscarriage, according to a local news report and police records reviewed by Jezebel. The news underscores the reality that pregnancy is a pretty dangerous time for women, not just because of health complications, but also due to increased risk of domestic violence.
Activist Explains Self-Managed Abortions in Congressional Hearing
Police in Iowa Park, Texas, responded to a call on May 28 and found Simon Wayne Streeter standing outside of a home with a pregnant woman who had visible injuries. The responding officer wrote in the arrest warrant affidavit that the woman had blood coming out of her nose, a swollen upper lip, scratches on the left side of her face, and a red mark on the left side of her neck.
The woman told police she was about 27 weeks pregnant by Streeter and that they'd been arguing. Streeter allegedly threatened to prevent her from seeing their other children and, during that argument, he punched her in the face, put his hands around her neck to choke her, and put his knee on her stomach and applied pressure. The woman told police that Streeter said something "to the effect of hoping that he caused her to abort their unborn baby." (The medical term for miscarriage is spontaneous abortion.) She also said she hadn't felt the baby move since before the fight; she was taken to a hospital for evaluation, but it's not known if her pregnancy continued.
Police charged Streeter with assault of a pregnant person. Wichita County Jail records show he was held on a $10,000 bond and released on May 31. It was a mandatory 48-hour hold, because Streeter had been charged with a separate family assault about a year ago. Local news station KFDX reported that Streeter was previously arrested in March 2022 and charged with assault following an altercation with his brother. Streeter's brother told police that Streeter was trying to shoot himself, and he'd tried to stop him from putting a gun in his mouth, which led to a fistfight. Bond was set at $2,000 in that case.
The threat of domestic violence during pregnancy arises from both sides of the same coin—men either wanting to end the pregnancy against the pregnant person's will, or men punishing their partners for having abortions. A different Texas man shot and killed his girlfriend on May 10 after she returned home from a trip to Colorado to get an abortion. That man, Harold Thompson, had strangled her weeks earlier and police had a warrant out for his arrest. (Strangulation is a key predictor of homicide in domestic violence situations.)
Pregnancy is a health threat, yes; but homicide is the leading cause of death for pregnant people. Still, the CDC does not count homicide when it tallies the U.S.'s nationwide maternal mortality rate. As National Birth Equity Collaborative senior policy analyst Alise Powell told Jezebel last year, "Homicide is the leading cause of pregnancy-related deaths, yet it's not talked about often in the maternal mortality crisis discussion. Now more than before, we need to have more discussions about violence before, during, and after pregnancy."