Earlier this week, Texas Gov. Greg Abbott signed into a law House Bill 3859, which allows religious (and tax-payer funded!) foster care and adoption agencies to deny services "under circumstances that conflict with the provider's sincerely held religious beliefs." In other words, when this law goes into effect, Christian adoption agencies will legally be able to reject potential adoptive parents if they are in a same-sex marriage.
On this week's Big Time Dicks, Prachi and I spoke with Currey Cook, the director of the Youth in Out-of-Home Care Project and counsel at the national headquarters of Lambda Legal about the law.
Cook explained that this doesn't just affect adoptive parents—it also affects children in foster care. Under the new law, agencies will have the freedom to either refuse care to children, or refuse to recognize their gender identity or sexual orientation.
"If they [foster children] are then supposed to be served in the area where they live by one of these contract agencies, and that agency says, 'Whoa, you're a trans kid? We don't do that. We don't believe trans kids exist. So you can come here, but we're only going to see you as the sex you were assigned at birth,'" Cook said. "So they can either say no, we're not gonna serve you, or we'll serve you, but you have to subscribe to our set of beliefs."
Cook also pointed out that the law is especially alarming given the Trump administration's efforts at rolling back efforts to uphold civil rights.
"If you are a young person or a family, and you've been discriminated int he context of the child welfare system, the people that you would complain to is the Office of Civil Rights within the Health and Human Services division of the government. So if you're turning to them and they're not interested in whether you've been discriminated on account of your sexual orientation or gender identity or they're downsizing... We've got these great federal protections now but if we're in a situation and we've got the fox guarding the hen house, or there's just no one guarding the hen house, where does that leave you?"
G/O Media may get a commission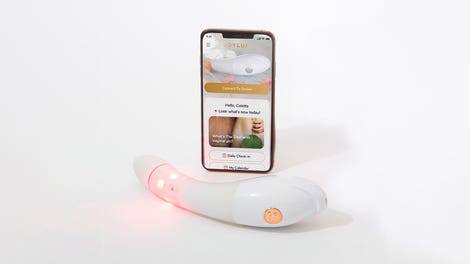 $50 Off
Joylux vFit Gold Device
---
Big Time Dicks can be found on Apple Podcasts, Stitcher, Spotify, Google Play, iHeart Radio, and on the NPR One app.

Want to tell us about a Big Time Dick in your life? Send us a voice note to BigTimeDicks@jezebel.com. Also, please rate and subscribe to the podcast, and recommend it to your friends, to make sure others are able to get their weekly dose of dick. If you need an antidote to this dark (but explained in a fun, relatable way) subject matter, check out our sister pop culture podcast DirtCast.
You're also invited to a free live taping of Big Time Dicks with Democracy Now's Amy Goodman, comedian Aparna Nancherla, and former Bernie Sanders press secretary Erika Andiola next Wednesday June 28 in Brooklyn, NY. Learn more about the event here.