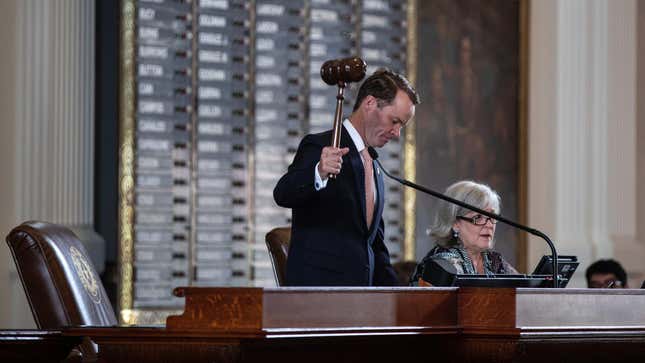 Texas's Republican-controlled House of Representatives passed a bill on Thursday that would allow locally-elected prosecutors to be removed from office if they refuse to enforce anti-abortion laws. The Texas Tribune reports that House Bill 17 "is a response to elected district and county attorneys in Texas' large, left-leaning counties who have said they will not enforce the state's abortion laws or pursue election fraud cases."
Betsy Wolfe Reveals the 'Most Embarrassing Thing That's Ever Happened' to Her on Stage
"The purpose of this bill is to eliminate politics from prosecution," State Rep. David Cook (R) said on the House floor Thursday.
Per the Tribune:
Elected prosecutors cannot be impeached by the Legislature or face recall elections. They can be removed only after the filing of a removal petition that accuses the district attorney of "incompetency, official misconduct or intoxication." If they are found guilty by a jury, a district judge can order them removed from office.
The move comes as Republican state legislatures increasingly use authoritarian tactics to mute their opposition. In Montana, Republican lawmakers have silenced a Democratic trans legislator for the rest of the session because she spoke out against an anti-trans bill. In Nebraska, an attorney filed an ethics complaint against a Democratic lawmaker who filibustered an anti-trans bill, bogusly arguing that she stands to benefit from killing the bill because her son is trans. In Tennessee, Republicans voted to expel two Democratic lawmakers for joining in student protests for gun safety laws following a mass shooting at an elementary school.
Texas prosecutors have said that being pressured to enforce anti-abortion laws vacuums resources away from being able to investigate and prosecute things like mass shootings.
"We are very focused on holding accountable people who commit acts of violence in our community," Travis County District Attorney José Garza told the Texas Tribune. "Pulling resources away from that to focus on this kind of case would be reckless and endanger the safety of our community."
Texas State Rep. Ana-Maria Ramos (D) also spoke out against the Texas bill earlier this month: "It is very clear what Texans are saying: They want to choose who their district attorney is," she said. "What they don't want is a grandstanding legislator to say 'No, we are not going to allow you to have this…voice.'"