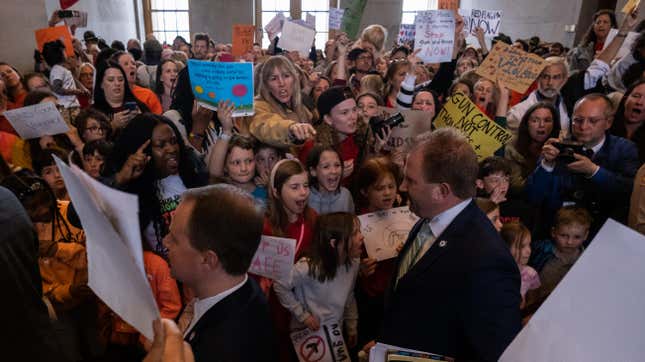 Tennessee Republicans are responding to a mass shooting at an elementary school last week by moving to allow more guns in schools.
Matthew McConaughey Gives Impassioned Plea For Gun Reform
One week after the mass shooting at Covenant Elementary in Nashville killed three children and three adults, Republican lawmakers in Tennessee advanced a bill Wednesday that would allow teachers and school employees to carry concealed handguns on campus. The state legislature is simultaneously trying to expel three Democratic lawmakers who joined a crowd of angry students in chanting for gun control measures last week at the state capitol.
As mass shootings at schools and elsewhere continue to feel like a daily occurrence in this country, many prominent Republicans have suggested arming teachers. One recently-passed law in Ohio requires no more than 24 hours of training for a teacher to be able to wield a gun on campus. Meanwhile, the overwhelming consensus among gun safety advocates, teachers' groups, and school security experts is that it's not helpful in any way toward solving the problem.
"The vast majority of teachers want to be armed with textbooks and computers, not guns," said Kenneth S. Trump, President of National School Safety and Security Services, in a statement.
"These bills are about rhetoric and distraction—they're not about solutions," Rob Wilcox, federal legal director at Everytown for Gun Safety, told NBC News. "If you were to introduce guns into schools, not only is it ineffective, but you're introducing more risk. How will guns be stored? How will folks be trained? When will guns be used? How do you ensure kids won't get access to them? How do you ensure a gun isn't used in a tense situation at school? These are all critical questions about this type of legislation that never gets answered."
Anti-gun protesters continued to swarm the Tennessee State House on Tuesday as Republican lawmakers worked to pass gun legislation that does anything but keep dangerous people from having easy access to firearms.