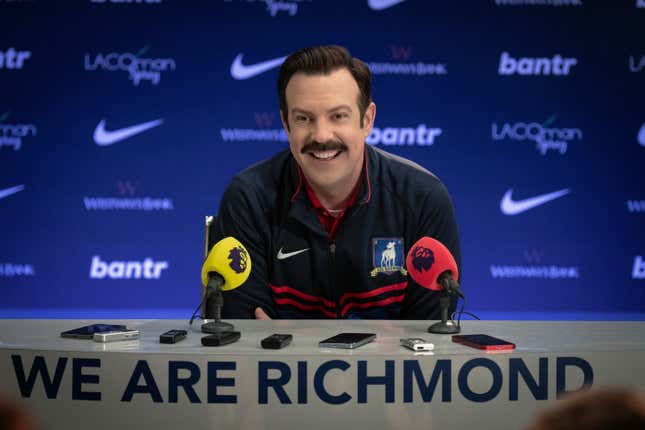 This piece contains mild spoilers for the first episode of Ted Lasso Season 3.
Ted Lasso is back, with the first episode of its third season dropping on Wednesday, and a lot has changed both on- and off-screen since we last left Coach Lasso's Greyhounds. Throughout the first arc of the season, there's a steady reckoning with the show's notorious, often cloying feel-good ethos, as it explores the messiness of human relationships on a deeper level, and as the show draws less and less subtly from its creator's contentious, highly public personal life.

Is Emmy Rossum Old Enough To Play Tom Holland's Mom?
As a refresher, on-screen, the team has just reentered the premier league; Ted recently started therapy; and the series' main couple Roy Kent and Keeley Jones finally hit a rough patch. Off-screen, since Season 2 ended in late 2021, the celebrity gossip ecosystem has been rocked by a series of revelations about the decade-long relationship between Sudeikis and his ex-partner, Olivia Wilde, which at least appeared to inspire some key plot points in Ted Lasso (namely, Ted's divorce and intercontinental co-parenting situation).
In April 2022, Wilde was served custody papers by Sudeikis while discussing her upcoming film in front of a large audience; she's very publicly criticized Sudeikis for the incident amid their ongoing, now-contentious custody battle. Then, last fall, the ex-partners' former nanny dropped a deluge of alleged secrets about the relationship—claiming Wilde had cheated on Sudeikis with Harry Styles, that Sudeikis had laid down under Wilde's car to stop her from going to Styles' house, that confrontations from Sudeikis had left Wilde feeling afraid.
As both the Sudeikis and Wilde camps go back and forth about what really went down between the two, it's clear Sudeikis wasn't thrilled by Wilde immediately taking up with another man. And the first episode of Season 3 suggests Sudeikis may not have been especially pleased with Wilde bringing Styles into their children's lives, either. At the end of the episode, over a FaceTime call, Ted's young son reveals a toy gifted to him by someone named Jake. "Who's Jake?" Ted asks, before learning Jake is his ex-wife's "new friend." Hmm! A look of horror flashes across Ted's face, even as he fakes a smile for his son, and the soft, ambient background music mutates into something akin to ambulance sirens before we cut to credits.
As the season progresses, we watch as Ted is increasingly unable to avoid his more complicated feelings about the divorce, his ex moving on, his distance from his child, and the repressed bitterness that his characteristic, outer positivity may be masking. Other relationships face hurdles in the first episode, too: Roy and Keeley reveal their breakup to Roy's young niece, who is surprisingly unfazed. "Nothing lasts," she tells the exes, and though it's a child saying these words, it very much sounds like a divorced person writing them. And Season 3 meditates on more than just romantic relationships: Ted and Rebecca hit a rough spot  when Rebecca confronts him about not taking winning seriously enough. It's a sorely overdue reminder that mixing work and friendship rarely goes as smoothly as we've seen thus far on Ted Lasso.
With each relationship the show explores and each new plot development, as a viewer, I was struck by how different watching Ted Lasso feels in the aftermath of all the Sudeikis and Wilde tabloid fodder of last year.
For me, the show has lost much of its innocence, as I recall the seemingly endless backlash Wilde faced for her relationship with Styles, for "leaving" her family, even for moving to England to live with Styles for certain stretches. She and Sudeikis split their time co-parenting, yet only one of them has been regarded as an "absentee" parent. Meanwhile, Ted is widely beloved, celebrated as a plucky sitcom protagonist and doting father, despite moving halfway across the world from his child for a job. It's a pretty jolting reminder that beneath the aggressive positivity, a decent amount of the show's appeal lies in thinly veiled sexist double standards—a show about a divorced woman who moves halfway across the world from her kid(s) would probably never fly, and we can easily infer that from the reactions Wilde's faced.
In a way, Ted Lasso's third season benefits from the injection of rawness and honesty that appears to stem from real-life events. The show has long needed some grounding and some real relationship stakes—and with Season 3, we're treated to a looming new sense of self-awareness.