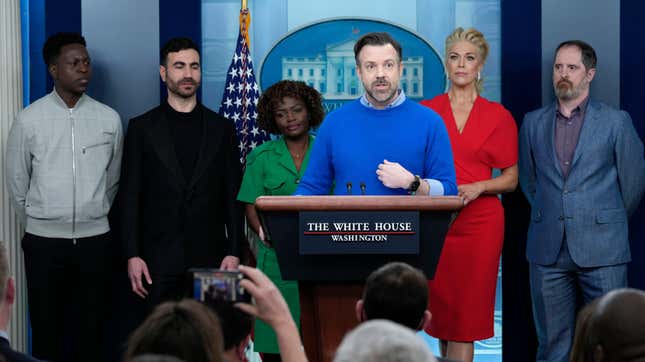 I knew we were in for a cringefest when, on Sunday evening, President Biden's Twitter account posted a photo of Ted Lasso's iconic "BELIEVE" poster hanging above the doorway into the Oval Office. On Monday, I was sadly proven correct: The Ted Lasso cast, including creator and star Jason Sudeikis, Hannah Waddingham, Brett Goldstein, Toheeb Jimoh, and Cristo Fernandez, visited the White House to meet with Biden on "the importance of mental health" (whatever that even means, at this point), and deliver remarks on the issue before the press. I want to offer the disclaimer that I earnestly enjoy this show, and many of its cast members seem like truly delightful people. But, I have to ask: Was this really necessary, let alone especially beneficial to anyone at this point?

America's Favorite Pasttime: Dunking On Dr. Oz
Mental health is a pretty central issue on Ted Lasso, as the titular, almost irritatingly positive protagonist, Ted, privately struggles with an anxiety disorder and childhood trauma, which he steadily begins confronting head-on in Season 2. A team therapist joins the cast and helpfully dispels a lot of myths about therapy. So, I can understand the underlying reasoning for the cast's visit to speak on the topic. What I struggle to understand is how much more "awareness" about mental health crises—especially via celebrity spokespeople, profit-driven brands, or, say, TV shows—we could possibly need.
At the press room podium, Sudeikis told journalists: "I know in this town, a lot of folks don't always agree right? And don't always feel heard, seen, listened to. But I truly believe that we should all do our best to help take care of each other." This is certainly some convenient, centrist framing: Often enough, the "folks who don't always agree" are disagreeing on fundamentals like whether health care—including mental health care—is a human right.
Access to mental health resources remains abysmal. Therapy and other supports are virtually unattainable for uninsured people. Endemic poverty and a full range of policies that most Americans have virtually no control over are plaguing broad swaths of the nation. What can more "mental health awareness" really achieve to help a pregnant woman in a state like Texas, who's struggling with anxiety over whether she'd survive hypothetical pregnancy complications?
My expectation of the cast of Ted Lasso obviously wasn't that they'd come to D.C. and, in the span of the day, deliver a mental health omnibus bill. And, to be clear, I'm deeply hopeful about a lot of the progress we've seen just in the last decade toward destigmatizing mental health struggles and opening up the cultural conversation around the issue. But now, I have to wonder whether we'll ever move past this surface-level "awareness stage," past celebrities and influencers—from Ariana Grande to your favorite podcasters—partnering with BetterHelp, launching their own apps, visiting the White House amid their TV show's new season. Slapping the face of a popular celebrity or brand onto highly political issues is one way to get people talking, but then what?

With the arrival of the Ted Lasso cast at the White House, I feel like we're trapped in an endless loop. Our conversations about mental health feel siloed into a wholly commercialized context, one that feeds the profitable pipeline of controversial therapy apps instead of addressing the policy-based conditions that are creating mental health struggles and mass suffering, in the first place. I don't think I need to hear any more from Prince Harry—a literal price—on how much he recommends therapy. In fact, the last people who should be lecturing us about taking care of each other are the exorbitantly rich and powerful, who benefit from the very systems of inequality that are making the rest of us miserable.
Look—living under a government system so resistant to change, I get that we may never move beyond the "having a conversation" stage around mental health and reach actual policy change. I hate it, but I get it. Still, if your "mental health awareness" campaign doesn't acknowledge that universal health care, living wages, affordable housing, sustainable environmental conditions, and fundamental human rights are part-and-parcel with supporting mental health, then I don't want it.