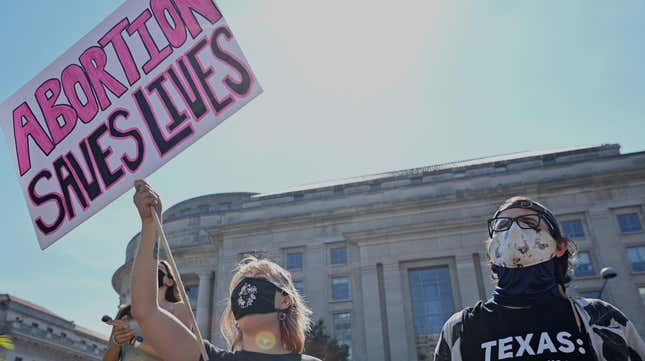 Five Texas women, some of whom say they almost died as a result of the state's near-total ban on abortion, are suing the state in a post-Roe v. Wade lawsuit that the New York Times identified as the first "brought on behalf of women denied abortions." The lawsuit, Zurawski v. State of Texas, filed on Monday, demands that Texas provide clarification about the ban's exception that claims to allow abortion care when the pregnant person's life is at risk.
Republicans Pull Out All the Stupid Stops While Debating Abortion
The plaintiffs say that this wasn't their experience, even though two carried fetuses with no skulls and two suffered conditions threatening the viability of twins they were pregnant with. All say they experienced complications that threatened their lives. Yet across the state, doctors are reportedly not informing patients including even those suffering from complications about the option of having abortion care, as some speak in code to evade retaliation.
As advocates have always pointed out, exceptions—whether for rape survivors or people facing life-threatening conditions—are rarely effective. And in Texas, it seems almost impossible that exceptions for the life of a pregnant person, who is likely in the midst of a time-sensitive medical emergency, would be effective when Texas law threatens providers with prison sentences up to 99 years and $100,000 fines.
Last summer, one Georgia-based OB/GYN explained the dilemma of abortion ban exceptions to Jezebel by talking about a pregnant patient whose cancer diagnosis required her to seek abortion care some time before Roe fell. "If that patient couldn't get her chemotherapy because she's forced to continue her pregnancy, she's not going to die in that moment, but she probably will die much sooner. Maybe significantly sooner, decades sooner," Dr. Nisha Verma told Jezebel. That's because exceptions fail to specify what counts as a threat to someone's life, thus delaying or preventing urgently needed care.
One woman, Amanda Zurawski—whose pregnancy complications led to two sepsis infections, a near-death experience, and such intense scar tissue that one of her fallopian tubes has permanently closed—told the Times that she and her husband "didn't even feel safe Googling options," and "didn't know what they could and couldn't search" out of fear of surveillance and prosecution. As the couple mulled leaving the state for emergency abortion care, they were told by their doctors that they should stay within a 20-minute drive of the hospital in case Zurawski went into labor. Still, even as Zurawski's condition rapidly worsened, the hospital declined to provide care until it was clear she was imminently in danger of dying. She survived, but family members had flown across the country to prepare to say goodbye.
Another plaintiff, Lauren Miller, was pregnant with twins when she learned that one wouldn't survive due to a genetic defect called Trisomy 18 among other conditions; continuing to carry an unviable fetus could result in a life-threatening sepsis infection or threaten the viable twin she was also carrying. Still, Miller was forced to travel to Colorado for emergency abortion care; she's still pregnant with the surviving twin and set to give birth this month.
At a press conference outside the Texas Capitol on Tuesday afternoon, one plaintiff, Anna Zargarian, recalled learning that she suffered from a condition called cervical insufficiency, loss of her daughter was "inevitable," and she was at risk of deadly infection. "I cannot put into words the trauma and despair I faced, knowing I could lose my own life, my child's, or both. For days I was locked in this bizarre and avoidable hell," Zagarian, who was ultimately forced to travel out-of-state for care, told reporters. She added that the "extent of the physical harm" she experienced—and its impact on her fertility as she continues to try to have kids—is still being determined.
A plaintiff named Lauren Hall said at the press conference that, like Miller, she learned one of the twins she was pregnant with was unviable, and eventually obtained an emergency abortion in Washington state, where she recalled the trauma of "protesters calling us killers, waving posters of dead babies as we entered the clinic" in an unfamiliar place."I love Texas," Hall continued, "and it kills me that my own state does not seem to care whether I live or die."
Miller told reporters that her doctors couldn't even answer basic questions about her condition: "It was like they were afraid they'd b arrested just for saying the word abortion out loud." And, reflecting on her experience, Zurawski raised the question: "Where else in medicine do we wait and see how sick a patient becomes before acting?"
Last summer, Texas Attorney General Ken Paxton challenged a common-sense, bare-minimum directive from the Biden administration that hospitals provide medical care to pregnant people to save their lives as part of the Emergency Medical Treatment and Active Labor Act (EMTALA). Paxton argued EMTALA "does not guarantee access to abortion," and, "on the contrary…contemplates that an emergency medical condition is one that threatens the life of the unborn child. It is obvious that abortion does not preserve the life or health of an unborn child." Per Paxton's interpretation, "people" aren't born, living pregnant people, or women with loved ones, hopes, dreams; "people" are fetuses. It's precisely this line of thinking that will always dehumanize and endanger pregnant people, even with all the stated exceptions in the world.