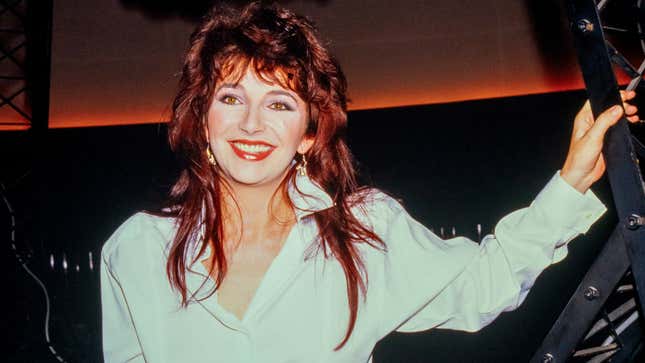 Kate Bush once sang, "Ooh, I just know that something good is going to happen," and so it did. On Wednesday, it was announced that the British singer-songwriter-producer will be inducted into the Rock & Roll Hall of Fame at a ceremony and concert to be held November 3 at the Barclays Center in Brooklyn. Bush's fellow inductees include Missy Elliott, Sheryl Crow, George Michael, the Spinners, Rage Against the Machine, and Willie Nelson.
Dirt Bag of the Week: Katharine McPhee
All of the above were selected via balloting; additionally, the Hall of Fame committee has chosen six artists to receive awards during the ceremony. Chaka Khan, Al Kooper, and songwriter Bernie Taupin will receive the Musical Excellence Award; DJ Kool Herc and guitarist Link Wray are getting the Musical Influence Award, and Soul Train creator/host Don Cornelius, who is dead, the late creator of Soul Train, will be honored with the Ahmet Ertegun Award.
This honor continues the renaissance of Bush appreciation. She was nominated for Rock Hall induction at least three previous times. Last year, she had an unexpected global hit when her 1985 single "Running Up That Hill" became ubiquitous after its inclusion on the soundtrack of Stranger Things. A pop star in her native England, she was long overlooked in the U.S. mainstream before hitting the Top 5 of the Billboard Hot 100 with a 37-year-old song. Wild!
Courtney Love, in an impassioned essay for the Guardian published in March, called on the Rock & Roll Hall of Fame to focus on diversifying its inductees, noting that, at the time of her writing, "just 8.48 percent of the inductees are women." She referred to Bush as an iconoclast and a "pioneer of synthesisers and music videos," and pointed out that, "she was the first woman in pop history to have written every track on a million-selling debut." She also called Elliott an iconoclast and referred to Crow as "a woman who subverted the boys club." At the time of this post, Love had not yet responded to the inductee news on her social media. We await her take with bated breath.
Now the big question is whether Bush will attend the ceremony. A musical legend who is spotted about as often as a mythical creature, Bush tends to stay out of the public view. She is often referred to as a "recluse," a label she has bristled at. Her last of such appearances occurred in 2014, when she attended the Evening Standard's 60th Theatre Awards to pick up a trophy for her Before the Dawn string of concerts earlier that year.