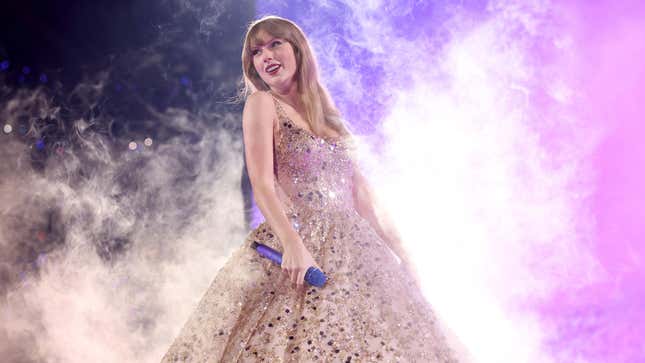 We're less than two weeks away from the release of Speak Now (Taylor's Version), Swift's 2010 album that she wrote by herself after critics accused her of not writing her own songs. And in Minneapolis on Saturday night, Swift opened the acoustic/surprise song section of The Eras Tour with a little speech about how excited she is to finally own this album—and how much she'd appreciate it if fans would stop cyberbullying anyone they suspect she wrote a song about.
Taylor Swift's Rep Thinks You Need to Calm Down About Her Private Jet
"I'm 33 years old. I don't care about anything that happened to me when I was 19, except the songs I wrote and the memories we made," Swift said before playing "Dear John" for the first time in 11 years. "So, what I'm trying to tell you is that I'm not putting this album out so that you should go and feel the need to defend me on the Internet against someone you think I might have written the song about 14 million years ago." (The second surprise song was "Daylight," if you're curious.)
While she obviously never said the words "Leave John Mayer alone" or "Please stop bullying John Mayer so he'll stop bugging me," the song "Dear John" is infamously rumored to be about him, since it came out after they dated for a few months when he was 32 and she was 19. (Which was awesome and cool on his part.) Also maybe because it has the name "John" in the title.
Since Swift announced the rerelease of Speak Now on May 5, fans seem eager to drag Mayer's ass back through the mud, especially since "Would've, Could've, Should've"—a 3 a.m. track from Midnights—is also rumored to have been about their fling. Even Taylor Lautner (who is rumored to have inspired the Speak Now track "Back to December") told Today.com he was "praying for John," which he then hashtagged in this viral Tiktok. (He's since backtracked a little bit, telling SiriusXM's The Happy Hour that it wasn't "the wisest thing to say." But he didn't say he was wrong!)
In 2012, Mayer told Rolling Stone he was "really humiliated" by the song and that it was "a really lousy thing to do." But that was nearly a decade ago; in April he seemed to address the drama for the first time since that 2012 interview during a concert in Sacramento, where talked about "Paper Dolls," the song rumored to be in response to "Dear John." "I wonder if people don't like it because it sounds a little pissed off," he said. "I try not to give bitchiness in the song, and that happens sometimes. I guess it is sort of a little bit bleh." Sure!
When Red (Taylor's Version) was released in October 2021, Swifties went hard on Jake Gyllenhaal, who allegedly inspired most of the album as well as the 10-minute version of "All Too Well" and who quickly turned off his Instagram comments after all the red-scarf-emoji spam.
"It has nothing to do with me. It's about her relationship with her fans," Gyllenhaal told Esquire in February 2022, three months after Red was re-released. "It is her expression. Artists tap into personal experiences for inspiration, and I don't begrudge anyone that." We love that.

But he continued: "At some point, I think it's important when supporters get unruly that we feel a responsibility to have them be civil and not allow for cyberbullying in one's name."
"I get to stand on the stage every single night of this tour and watch the most unspeakable things happen. I watch you guys make friends with each other, I watch you bond, I watch you give each other friendship bracelets," Swift said. "So I was hoping to ask you that as we lead up to this album coming out, I would love for that kindness and that gentleness to extend onto our internet activities." You heard her: Cut the shit, Swifties.
May these men find peace of mind in their continued commercial success and millions and millions of dollars. Stream Speak Now (Taylor's Version) on July 7th—and #prayforjohn. (Praying is not cyberbullying!)