Today we introduce noted tabloid psychic Hanna Torn (a cousin of Tiara Dew Dots), who will predict with pinpoint accuracy the contents of tomorrow's celebrity weeklies. The Gosselins, the Jolie-Pitts, even John Mayer — the stars reveal all!
Last week, Us told us about Kendra Wilkinson's post-baby body, specifically the workings of her nether regions. But because of the influence of Mercury, tomorrow's Us will shift focus from sex to war. I see Kate Gosselin (whom Us shockingly accused last week of being a fame-whore) coming to blows with either Hailey Glassman, Vanessa Paradis, or three to five Real Housewives of Orange County. Possible topic: the size of Jon Gosselin's member (as he says, "You know how subconscious I am of down there.") An update on Heidi Montag's plastic surgery will involve her dissatisfaction with a body part including the letter 'e,' sources close to Sam Mendes and Kate Winslet will opine on their split, and Knox and Vivienne Jolie-Pitt will fight over who gets to choose the name of the next sibling. Are they, Us will ask, OUT OF CONTROL??

Cover: Kate Gosselin
G/O Media may get a commission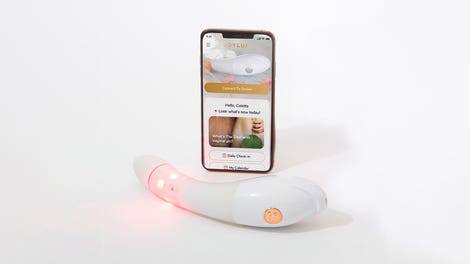 $50 Off
Joylux vFit Gold Device
Star
Last Wednesday, Star said Katie Holmes was pregnant "against her will," Taylor Lautner loved hair gel, and both Brad Pitt and Vanessa Paradis were angry about Johnny Depp and Angelina Jolie's purported love scenes. This week, the position of the moon spells reversal! That means that either Katie Holmes got pregnant against Tom's will, Katie Holmes isn't pregnant but wishes she were, or Tom and Katie's failure to produce more spawn has angered Xenu, who will now rain bolts of fire down on our hapless planet. Taylor Lautner will donate his hair to charity, donate his hair gel to charity, or fall for a hilarious switcheroo a la There's Something About Mary. Vanessa Paradis and Brad Pitt will exchange secret texts known only to themselves and the editors of Star, and Jennifer Aniston will remain miserable and alone, because we all know no moon reversal is going to fix that.
Cover: Vanessa and Brad
OK!
The Stars may have been illicitly dancing with one another last week, but the real story was ... dieting! And with Aquarius entering Jupiter's house this week, OK! will be working this angle even harder. Expect the special diet Brad Pitt's on to keep Angelina hot for him, or possibly the cleanse Angelina's doing to look skinny(er) in her scenes with Johnny Depp. A dietitian who does not treat the stars will make an appearance to recommend either a) the Pica Diet, consisting of dirt, paint chips, and human hair, or b) the Tabloid Diet, in which you subsist entirely on tabloid articles about food. OK! will also reveal that Suri Cruise refuses to take her vitamins, and the Jolie-Pitt kids are allowed to eat Lucky Charms on Saturdays. Are they, OK! will ask, OUT OF CONTROL??

Cover: Angelina
Last week was all about Kardashian breakup rumors, with Reggie Bush not-proposing to Kim, and Scott Disick refusing to change little Mason Dash's diapers. But the stars say something new and exciting is brewing for In Touch, and I'm seeing the letters J and M. Which can only mean one thing: John Mayer. I'm betting on a surprise marriage proposal to one of the following: allegedly lonely mom Kourtney Kardashian, ex Jessica Simpson (in an adorable reconciliation), or, in an upset, Jessica Biel. This would explain the trouble brewing on Justin Timberlake's chart yet, but he will likely seek comfort in the arms of costar and ex Cameron Diaz. This will leave Jennifer Aniston, as always, miserable.

Cover: John Mayer, possibly with Justin Timberlake
Even with stories about Justin dry-humping Cameron and Lady Gaga partying until she almost died, last week's Life & Style was a bit dry. Not so this week. Leo is crossing Saturn, which we psychics know means: madness! Either Jon Gosselin, Jake from The Bachelor, or Zach Efron will enter treatment for an unspecified psychological problem, and Dr. Drew Pinsky will offer a description of either narcissistic personality disorder, oppositional defiant disorder, autism, or rabies. A helpful quiz will allow readers to determine if they have any of these conditions, based on questions like, "do you ever foam at the mouth?" Also, Jennifer Aniston suffers from the delusion that life is worth living without a husband, Tom Cruise suffers from Scientology, and Suri Cruise is afraid of shoes. Is she, Life & Style will ask, OUT OF CONTROL??

Cover: Jon Gosselin