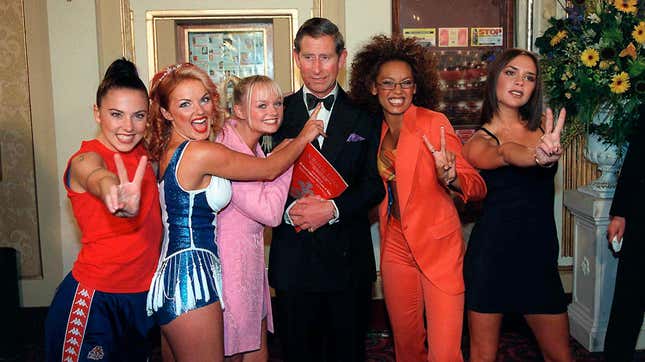 The huge rumor came out of Buckingham Palace on Sunday and, shockingly, it did not come from Prince Harry's memoir, Spare. A source has told the Sun that the Spice Girls are apparently considering performing at King Charles' coronation in May of this year. Sporty, Ginger, Scary, Baby, and Posh…please say you'll be there!!
Lucien Laviscount Dishes on Red Flags and Romantic Deal Breakers
"Royal organizers are super keen to secure Britain's biggest girl band and the Spice Girls are seriously pondering a return to the stage as a five piece for such a historical event," the royal insider told the Sun. The last time the '90s fivesome reunited was at the 2012 London Olympics closing ceremony. Since then, the group (minus Victoria Beckham) performed in Dublin in 2019, though due to technical issues fans described as a "disgrace," they ultimately walked out.
In his memoir, Harry describes his father "nodding to the beat and tapping his foot" at a Spice Girls concert, which happened to be Harry's first public outing since his mother's funeral. You know how the lyrics go: "Nod the beat (if you're having a good time!) Tap your foot (if you know that you feel fine!)" Sounds like King Chuck is a super fan.
Mel B has been teasing a big Spice Girls announcement in recent weeks. On Sherri Shepherd's talk show she revealed, "Now we're talking about doing something together, and fingers crossed it will be announced very soon...very, very soon!" These rumors? I "Wannabe" them to be true. (That one worked better in my head.)
Promises of a Spice Girls reunion tour have been dangled in front of us for a long time. It feels like OG fans are going to be eligible for Medicare before a proper tour ever mobilizes. Beckham has consistently held out on the reconciliation. In October, she told Andy Cohen on Watch What Happens Live that she "couldn't commit" to a tour but that she "had so much fun in the Spice Girls" and that she "loves" them. She did not rule out returning to the stage as a hologram. "That is a good idea," she said.
But considering that the coronation isn't a full tour and that Beckham attended both Prince William and Prince Harry's weddings, I think there's a high chance that she might be game for another royal celebration.
---