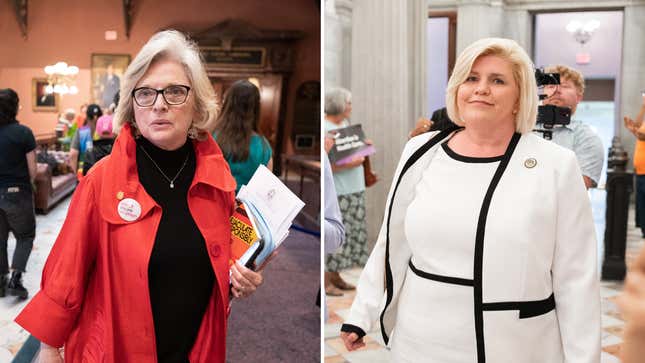 In April, five women lawmakers from South Carolina made national headlines when they filibustered a proposed total abortion ban in the state Senate. They called themselves the "Sister Senators" and people heaped praise on the bipartisan group. And on Tuesday, it was announced that they'll receive the 2023 John F. Kennedy Library Foundation "Profile in Courage" award. Except two of them previously voted for a six-week abortion ban, Senate Bill 474, that is currently in effect and has dealt yet another blow to access across the South.
State Senators Penry Gustafson (R), Margie Bright Matthews (D), Mia McLeod (I), Sandy Senn (R), and Katrina Shealy (R) got national TV interviews and were hailed as "The Unexpected Women Blocking South Carolina's Near-Total Abortion Ban" by the New York Times. But almost all of the coverage glossed over the fact that just months before, in February, Republicans Gustafson and Shealy voted for an earlier version of S.B. 474 to ban abortion at six weeks—meaning two weeks after a missed period if someone's periods are regular, and that's a big if.
After filibustering the total abortion ban, the pair voted against a House-amended version of the original six-week ban in May that stripped away a provision allowing minors to petition a judge for an abortion up to 12 weeks of pregnancy. Gustafson cited the House's "dramatic" changes as the reason why she couldn't support the new version of the bill, while Shealy tried and failed to amend the ban to 12 weeks. It didn't matter: The bill passed and South Carolina's Supreme Court ruled that S.B. 474 could take effect in August. It is in no way courageous to vote for an already extreme six-week ban, then only vote against it after your colleagues make it even more restrictive. It isn't courageous to endorse slightly less oppression.
Gustafson and Shealy's February votes for S.B. 474 are public. The New York Times did briefly note them in an otherwise glowing profile of the group in May, albeit way down in the piece:
Their positions hardly make them champions to reproductive rights groups. Two of the three Republican women, Ms. Shealy and Ms. Gustafson, voted in favor of a six-week ban, which the Senate passed. This is before most women know they are pregnant.
But here is the website of the JFK Library, ignoring those earlier February votes:
Weeks later, when the governor called the South Carolina legislature into a special session to further curtail abortion rights, the Sister Senators remained in alliance and stood strong in opposition to a measure banning most abortions at the 6th week of pregnancy. Despite their efforts, that legislation was eventually passed into law.
When reached for comment by Jezebel, a spokesperson for the JFK Library Foundation said, "While both Senators Shealy and Gustafson originally voted for S. 474, after the House amended it, the five Senators stuck together and voted against the final version of the bill." The spokesperson continued, "We celebrate the courage of these five women to come together and take a stand for abortion rights despite different political backgrounds and views on the issue."
The JFK Library Foundation announced the women as the recipients on Tuesday, complete with Caroline Kennedy and her son, Jack Schlossberg, appearing on the Today Show. The ceremony isn't until October 29, which means there's still time to rescind the award for so-called "courage" from these two women.