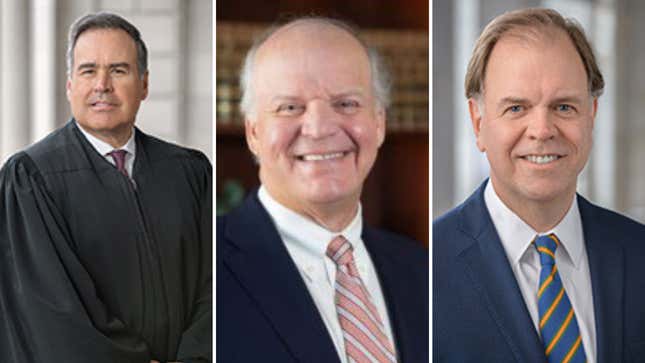 South Carolina's all-male state Supreme Court greenlit an extreme six-week abortion ban on Wednesday, dealing a massive blow to access across the South. This means abortion is banned roughly two weeks after a person's missed period, which is before many people even realize they're pregnant. And it took the panel of men eight weeks to write the decision, which is longer than patients will now have to access abortion.
Uterus Weekly: 15-Week Abortion Bans
"The legislature explained it had placed weight on the fact that a woman could learn of her pregnancy within seven to fourteen days of conception and would have several weeks after that to make her decision and have an abortion if she so chose," Justice John Kittridge wrote in approving the law. Never mind that "conception" is a nebulous, vaguely religious concept used only by Republicans.
Abortion providers in the state have now paused care, though it's unclear exactly when the ban goes into effect. Planned Parenthood, independent abortion provider Greenville Women's Clinic, and hospital locations turned away dozens patients on Wednesday, advocates and attorneys told reporters on a conference call.
Dr. Katherine Farris, chief medical officer for Planned Parenthood South Atlantic, said patients are facing massive roadblocks now. "I do not need to imagine the harm this will cause patients. We've already lived through this," Farris told reporters. "Hundreds of people were forced to travel 100s of miles [for care]."
South Carolina has been, until now, a critical state for abortion access in the South. The closest clinics now are in Southern Illinois, Kansas, Ohio, and Virginia, making multi-day travel basically a requirement for anyone from southern states seeking in-person care. "This morning our clients had patients from Texas, Mississippi, people who had traveled overnight," Caroline Sacerdote, a litigator at Center for Reproductive Rights, told reporters.
The new abortion ban in South Carolina is amended from a previous version that passed in 2021, but was ruled unconstitutional for violating the state constitution's right to privacy rule. "Anti-abortion lawmakers refused to accept this and dropped a materially similar ban," Catherine Humphreville, an attorney for Planned Parenthood, told reporters.

The state Supreme Court accepted this new version. Kittridge wrote that it's "apparent" that the anti-abortion legislators "carefully crafted" this new version—to skirt privacy rights in constitution. Bravo!
Kittridge's opinion offers a rosy version of the reproductive cycle. Dr. Jamila Perritt, an abortion provider and president of Physicians for Reproductive Health, pointed out how a six-week abortion ban actually functions. "While some people who discover their pregnancies very early on will be able to continue to get care, we know that a six-week abortion ban, in reality, essentially functions as a total abortion ban, eliminating access to abortion for most people seeking care," Perritt said in a statement on Wednesday.
Humphreville, the Planned Parenthood attorney, said the legal team is exploring options for next steps. Unlike other states, South Carolina does not allow citizen-brought ballot initiatives or referenda. Pro-abortion initiatives have seen huge electoral victories in red states across the country, but voters in the Palmetto State may simply be fucked.