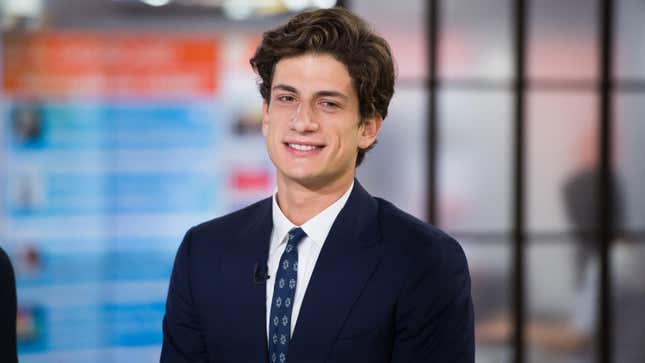 Two things are guaranteed when you bear the last name "Kennedy": You're going to have a goddamn great head of hair, and people will, without question, give platform to whatever opinions you have. Including myself, if that opinion is particularly funny and being discussed widely across the internet.
On Monday, President John F Kennedy's only grandson, the very handsome and out of touch Jack Schlossberg, posted a long tirade against restaurants on Instagram. Sorry, chef! Watching the viral video, you may get the sense that the 30-year-old Yale and Harvard grad is your run-of-the-mill handsome nerd who harmlessly conflates eccentric ranting with humor. Or if you're inclined to take his screed seriously, perhaps you'll find it persuasive and emerge with a butcher knife in hand, ready to go to battle against the bourgeois bouillabaisse.
Here are the main points therein:
"We have to wait there to eat something that we don't get to choose, really, what it is."
"We only have a couple of choices."

"We don't know what any of them will taste like, or what's good."
"It'll be covered in sugar."
"We're gonna sit there for most of the time and wait for some guy to come up and ask us some questions, and we're gonna have to fucking talk to some guy about what we want to eat for food and put inside of our bodies."
"We have to read something in order to get the food first. You have to read to get your food. Why?"
"Because it ruins your whole life."
"You spend hours and hours eating at restaurants when you could spend a minute and a half eating something that is good for you."
Schlossberg then helpfully suggests that instead of sitting around a dinner table like a moron, indefinitely suspended in time and space, you can scarf down your food and "then you can go fucking lie down, you can go walk around, you can listen to music, you can get work done, you can hang out with your friends." I am sorry to rebut America's charming default prince, but this sounds like something someone who is used to a private chef would say.
Look, Schlossberg seems like a nice enough guy. A skim through his Instagram feed shows that he enjoys cataloguing homonyms and paddle boarding in dubiously clean urban waters. The comments on his posts, however, suggest he's bombarded with nostalgic obsession from middle-aged women hellbent on telling him he is handsome, looks like his uncle, and should run for president one day. It's a dangerous amount of encouragement for any young white man to receive, let alone a blue-blooded Kennedy.
Mr. Schlossberg, while I know you are only joking, I feel it's my duty to deflate the egos of attractive nepo babies before they get too big. Restaurants are great. Having someone present a little menu for you to read is a treat. They do not ruin your life. Spending hours eating at a restaurant is hours well spent. I will not add to the chorus of older women breathlessly praising you even though you are very, very good looking to me, but please be careful paddle boarding in the Hudson River and make sure you don't have any open wounds.