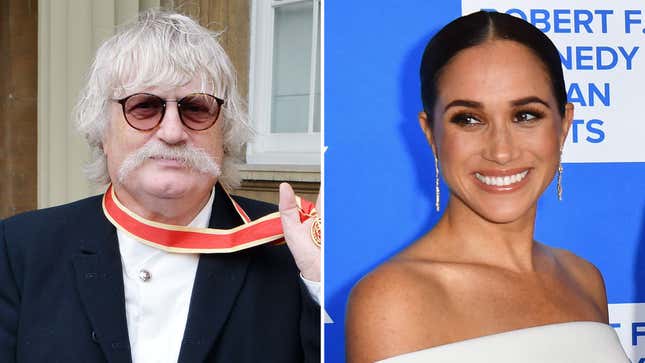 You know what they say about mysterious old men with mustaches: If the mustache is a little too long, it's probably Meghan Markle in disguise.
Dirt Bag of the Week: Katharine McPhee
Internet conspiracy theorists were convinced, for some reason, that a 79-year-old Welsh composer present at King Charles III's coronation was actually Markle, who previously said she would not be in attendance at the ceremony. While Prince Harry showed up for his dad, Meghan reportedly stayed back to celebrate son Archie Harrison's fourth birthday, which happened to be on the same day. Enter Sir Karl Jenkins, stage left.

It all began when a photo of an elderly gentleman seated next to Andrew Lloyd Webber at the coronation went viral, according to the Daily Mail. Why zero in on this random man, you wonder, when that very same day, another grown man was cloaked in unserious fur, gold threads, and a bejeweled crown like a proper drag queen? Because this man was sporting a shag so perfectly coiffed á la The Spy Who Shagged Me that it could have been a wig. His face was partially obscured by giant aviators, which he wore indoors (suspicious!). And his handlebar mustache was so long it protruded past his jawline and looked barely taped on like a cheap Halloween costume. Who is he? What is he hiding? It seemed clear to many: That man is the Duchess of Sussex.
Well, to the disappointment of a few too many, the man in question turned out to be very much real. And now he would like to set the record straight. "My name is Sir Karl Jenkins. I understand there has been a lot of interest in me since I appeared at the coronation of King Charles III," the 79-year-old Welsh composer said in a TikTok this week. "I was there because I'd written some music for the service, really. I was quite surprised that some people thought I was Meghan Markle in disguise."
On top of composing some truly beautiful and haunting bops that were played during the ceremony, Sir Karl was also knighted by the royals, meaning he's more than earned his right to attend the coronation. In the TikTok, he explains himself while sitting on the most British-ass chaise lounge I've ever seen, complete with golden tassels. As he talks, "Adiemus," by him of course, plays in the background. Watching it, I thought, now this is camp.
"Someone wrote that I was there to steal the crown jewels," he laughed. "I look this way all the time! I've had this mustache since I was 18 years old. It was very trendy then…So that's me. Nothing sinister or surprising about it at all."

Glad we got that sorted, sir.