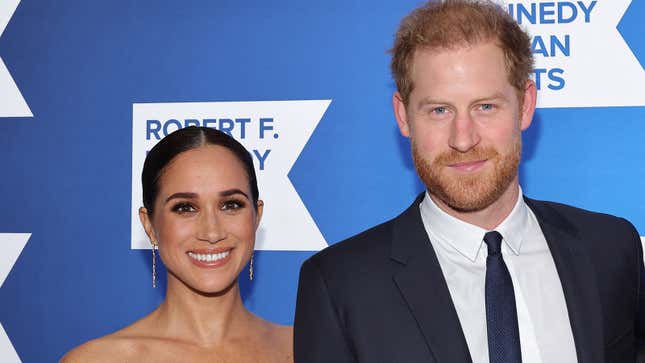 On Wednesday, Buckingham Palace ended months of will-they-or-won't-they speculation as to whether Meghan, the Duchess of Sussex, and Prince Harry will attend the May 6 coronation of King Charles and Queen Camila. And the answer: Yes and no. Or, strike that. Reverse it. No and yes.
Taylor Lautner Doesn't Even Remember Saying 'Bella! Where the Hell Have You Been Loca?'
That's to say Meghan will not attend, instead remaining "at the couple's home in Southern California with their two young children, Prince Archie and Princess Lilibet," according to the Palace. Harry, however, will be in attendance.
What attendance will actually entail for Harry remains up the air, as NPR points out:
When the prince attended the funerals of his grandfather, Prince Philip, and his grandmother, Queen Elizabeth II, commentators discussed everything from whether Harry would be allowed to wear his military uniform to exactly where he was seated. And there is always the question of whether he will meet face-to-face with his father and older brother, Prince William.
The suspense!
May 6 just happens to be Archie's birthday. You know what that means: Competing parties! (People "understands that the Duchess of Sussex will spend the weekend celebrating with him and his sister, 22-month-old Princess Lilibet.") E! reports that over 2,000 guests are expected. And not a Meghan Markle among them! I don't know how to interpret this—whether it's a mutual no between Meghan and the Palace or whether she turned down the invitation or the Palace rejected her, BUT it seems incredible that Harry talked mad shit in his memoir and still got an invite. He should use his time around his relatives to research book two.
---
Dance break!
(It's Goldie Hawn doing the Cha Cha Slide. Or something like that.)
---