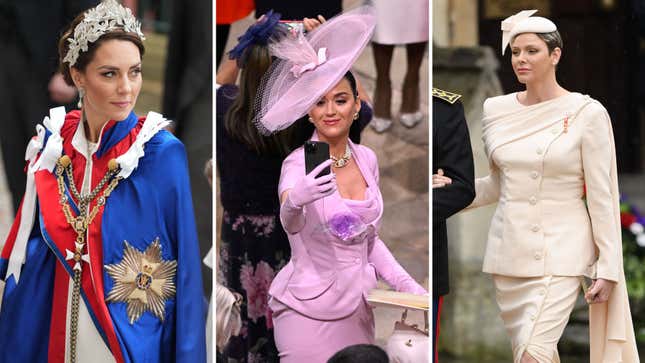 Cue pomp! Cue circumstance! Our former step-parents, the Brits, just crowned a new king—something they haven't done since 1936. King Charles is stepping into the boy version of the role his dear mother Queen Elizabeth held for over 70 years; a role that one could argue she held onto so ferociously in fear of this exact moment: her sort of doofy, ill-tempered son and his sausage fingers becoming monarch. Real Logan Roy "I love you, but you are not serious people" vibes, if you ask me. Charles is the oldest monarch to ever be crowned in British Royal history. Slay.
The ceremony was full of tradition and ritual, none of which addressed the crown's devastating legacy of imperialism and racism they've perpetuated for centuries. Most recently that racism has been directed at Meghan Markle, wife of Prince Harry, who, in an act of self-care, tapped out of this event. "Someone needs to stay home and water the plants," I assume she texted the chat.
Others, though, opted to attend Charles' first day of work and wore whimsical fascinators, fancy robes, and clutched elegant little pocketbooks. While "long live the king" certainly doesn't have the same ring to it as "long live the queen," nothing these days seems to be as good as it once was. With that in mind, let's check out these 'fits.