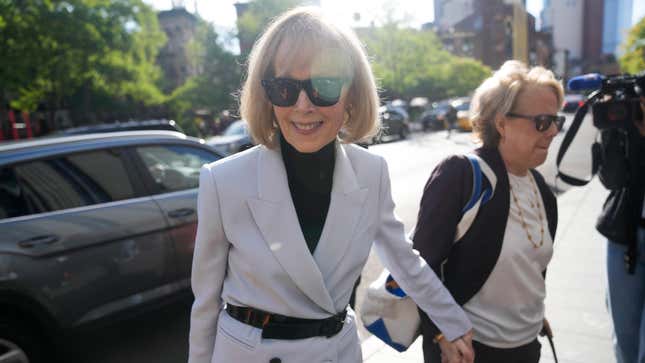 On Thursday, former president Donald Trump told reporters that he would make an appearance at writer E. Jean Carroll's federal civil trial wherein he's accused of rape and defamation stemming from an alleged sexual assault in the 1990s. Of course, as his attorney stated at the time, he was never going to drop by. Now, the proceedings are nearing a conclusion as closing statements were presented in Manhattan Federal Court on Monday.
Infamously Thin-Skinned Man Joins Twitter's Board
Carroll's attorney, Roberta Kaplan, began by playing Trump's October 2022 filmed deposition...you know, the one where he mistakes a photograph of Carroll for his ex-wife, Marla Maples. "That's Marla, yeah," Trump said when presented with a photograph of Carroll during the questioning. "That's my wife."
"What did Mr. Trump do after I showed him that photograph?" Kaplan prompted the jury of six men and three women. "He looked at it for a moment and then, completely unprompted by me, he said, 'It's Marla.' She was exactly his type!"
Trump's response is particularly damning given a fixture of his long-held denials of Carroll's accusations is that she wasn't his "type." That is, in addition to the fact that he "never met this person in my life," and that the incident "never happened," of course.
"He said the photo was blurry. But that's the photo, ladies and gentlemen," Kaplan said. The photograph, shown in court, depicts Carroll and her then-husband alongside Trump and his first wife, Ivana, in the 1980s. "The truth is that E. Jean Carroll, a former cheerleader and Ms. Indiana, was exactly Donald Trump's type."
Kaplan also revisited Trump's infamous comments on Access Hollywood in which he boasted about sexually assaulting women to Billy Bush: "I just start kissing them...I don't even wait" and that "when you're a star" you can "grab them by the pussy."
"He's telling you in his own words how he treats women," Kaplan said. "It's his modus operandi."
Kaplan then played another part of the filmed deposition wherein she asks Trump whether he meant what he said to Bush. His response was as baffling as one would anticipate: "Well, that's what—if you look over the last million years, I guess that's been largely true. Not always, but largely true. Unfortunately or fortunately."
"He actually used the word 'fortunately' describing sexual assault," Kaplan emphasized.
Finally, she noted Trump's absence throughout the two-week proceedings despite the gravity of the allegations and that it would've been an opportunity to deny the claims in a court of law. In previous legal filings, Trump's attorneys have said he would not appear in court because of the burden his security apparatus would place on the court. However, his attorneys opted not to put forth any witnesses on his behalf either.
"He didn't even bother to show up here in person," Kaplan said. "In a very real sense, Donald Trump is a witness against himself. He knows what he did. He knows that he sexually assaulted E. Jean Carroll."
In his response, Trump's attorney, Joseph Tacopina, thoroughly questioned Carroll's account, even claiming she "invented" it and likening it to a "Law & Order" episode, per the New York Times. Her motive, Tacopina asserted, was to sell her 2019 memoir. "It became her lifestyle," he told the court.
Currently, Carroll's team has not specified the monetary damage they're seeking. That will be for the jury to determine should the verdict be in her favor, though Kaplan said that for Carroll, the outcome isn't about money but clearing her name.
"In this country, even the most powerful person can be held accountable in court. No one, not even a former president, is above the law," Kaplan said. "Your job is to uphold that core principle."