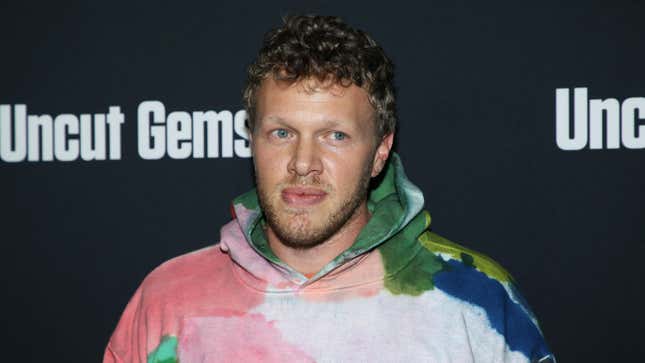 Three unnamed women have accused Sebastian Bear-McClard, Emily Ratajkowski's ex-husband and producer of the Safdie's brothers' Uncut Gems and Good Time, of sexual misconduct and "troubling behavior," per a new bombshell report by Variety.
Paulina Porizkova On The Hypocrisies Models Must Navigate
The women's claims have surfaced in connection to a legal dispute of which Bear-McClard is at the center. Currently, the producer is embroiled in a very public divorce and custody clash with Ratajkowski—with whom he shares one child—in addition to a more private fallout with former collaborators, Ben and Josh Safdie, who fired Bear-McClard from their production company in 2022. Two of the women provided statements that allege Bear-McClard of sexual misconduct, while a third statement claims he exhibited "troubling behavior." Notably, Variety reports that it spoke to "more than a dozen sources" familiar with said alleged behavior.
The first woman, now 24, alleged that in 2016—when she was just 17 years old—Bear-McClard reached out to her via Instagram to invite her to his Soho loft and offered her a small role in the then-forthcoming Good Time. Per Variety, the woman detailed hailing from "an impoverished background" and was excited about the prospects of meeting the film's star and Twilight leading man, Robert Pattinson. Upon her first day on set, she described waiting for hours for her turn behind the camera, entirely unaware of what the scene required of her. When it arrived, she was without clothes and surrounded by "nearly a dozen" male cast and crew. Her scene partner was not Pattinson, and instead, a man recently released from prison. The woman detailed feeling "utterly stunned" and "terrified."
"My distress only worsened when out of nowhere, [an actor] whispered in my ear if 'he could stick it in' while the cameras rolled," she recalled. "I said 'no.'" She alleges that compensation for her role was never discussed and that Bear-McClard only gave her cigarettes afterward. (Her scene didn't make it into the film's final cut.)
"Normally, minors have to have their contracts court affirmed, and there's lots of other hoops in order to cast a minor," Anne Henry, co-founder of BizParentz, a child actors advocacy group, told Variety. "This is so not normal. Everything is wrong about this situation."
Shortly after the production concluded, the then-17-year-old began having a sexual relationship with Bear-McClard that would last more than two years (the age of consent in New York is 17). I'll note that Bear-McClard and Ratajkowski were married in 2018.
A second woman alleged that Bear-McClard began "grooming" her during the production of the 2019 film, Uncut Gems. The then-18-year-old claims their correspondence also began on Instagram and Bear-McClard often alluded to being able to elevate her career. In a statement seen by Variety, the woman describes an incident in which she was invited to the apartment Bear-McClard shared with his then-wife. According to her disturbing account, the two began kissing and as things escalated, he penetrated her without consent or a condom. Additionally, she alleged Bear-McClard used a tracking app to monitor her movements and often disparaged her using derogatory language like "kike" and "retarded," however he maintained that he was just joking. Eventually, she alleged she confronted him about messaging a 15-year-old girl who had visited the set via Instagram.
"Sebastian appeared pleased with himself and laughed at my comment," the woman said. "He did not deny my accusations."
A third woman who's familiar with Bear-McClard did not mention sexual misconduct but did allege "troubling behavior" on his part in a statement given to Variety. (Both Bear-McClard and Ratajkowski declined to comment to the outlet.)
"Multiple sources" told Variety that Bear-McClard's contact with the teenage girl and his romantic relationship with yet another young woman on the set—this one, an assistant—resulted in his fallout with the Safdie brothers. A spokesperson for the Safdie brothers told the outlet: "The Elara team were made aware of Sebastian McClard's behavior in July 2022. They took immediate action and terminated him."
In July, during the couple's then-rumored split, a source told Page Six: "Yeah, he cheated. He's a serial cheater. It's gross. He's a dog." Ratajkowski filed for divorce from Bear-McClard in September.