Hooray for women! Saudi Arabian King Abdullah has granted women in his country the right to vote and run for public office.
Not so much hooray- in order to participate in public life, women still need permission from a male relative. They also won't be able to start participating in the democratic process until the next election cycle, which won't happen until 2015.
Despite the delay in implementation, Saudi women are excited by the news. The BBC reports on a few of their reactions-
"I haven't been able to take my breath," said Hatoon al-Fassi, a university professor and women's rights activist in Riyadh.

"We're so excited. We believe it's the response to our demands, the first step in our long struggle to get our rights."
"I'm very happy about it," said Mohammed al-Zulfa, a former member of the Shura, who has long sought greater freedoms for Saudi women.

"The king knows what the silent majority thinks and today he told them: 'I know what you are thinking and I'm saying it now.'"
Some speculate that King Abdullah enacted these reforms in response to progressive political pressure from elsewhere in the Arab world. Others think that the grassroots "drive-in" protest that Saudi women participated in earlier this year may have influenced the King.
G/O Media may get a commission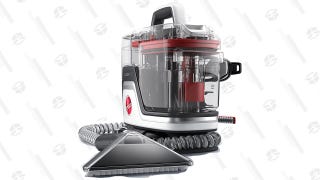 Save $10
Hoover CleanSlate Plus Carpet & Upholstery Cleaner
No matter the cause, this movie is a major step forward for half of the population of a country that isn't exactly renowned for its stellar record on human rights. Saudi Arabia, for example, is the last country in the world that bars women from driving. Saudi women weren't allowed to be educated until the 1960's, and lower class women in the Gulf state still face a harrowing set of circumstances.
I'd extend my congratulations to the government of Saudi Arabia, but congratulating the government on almost approaching the bare minimum for its women seems a little like congratulating the Ben Roethlisberger for going an entire off season without groping anyone.
First Step for Saudi Women's Rights [BBC]
Image: FILE - In this Nov. 11, 2010 file photo, Saudi woman with cellphones smoke tobacco from a waterpipe as they drink coffee in Jeddah, Saudi Arabia. Saudi King Abdullah has given the kingdom's women the right to vote for first time in nationwide local elections, due in 2015. The king said in an annual speech on Sunday before his advisory assembly, or Shura Council, that Saudi women will be able to run and cast ballots in the 2015 municipal elections. (AP Photo/Hassan Ammar, File)