According to news reports out of Saudi Arabia, Saudi women are outraged that the government plans to allow Moroccan maids into the country to replace Filipina and Indonesian women, out of the belief that Moroccan women will seduce their husbands. Oh, by the way: There's a vacuum in the Saudi domestic market in response to brutal human rights abuses of maids, including beheadings.
Emirates 24/7, which appears to be the Daily Mail of the Gulf and should be taken with a corresponding pillar of salt, translates reports in the Saudi press of women "deluging" Parliament to protest the proposal to bring Moroccan women to the kingdom. According to the newspaper Sharq, "They say the Moroccan women are beautiful and this will cause continuous anxiety and concern in Saudi families," and also that "Moroccans are good at magic and sorcery and that this could enable them to lure their husbands." Also, this:
"Some women threatened to resign their job and stay at home so their husbands will not be left alone with the Moroccan maid.
Serious question: What are the husbands doing at home? Living off the spoils of oil while the women get driven to work?
The concerns are evidently rampant enough for a member of Parliament, Talal Al Bakri, to remark to the Saudi daily Sabq, "We should not distinguish between housemaids from Ethiopia, the Philippine, Indonesia and Morocco….women are women wherever they come from." What a feminist! In turn, a female columnist in Saudi Arabia assured her readers that Saudi women had nothing to worry about, having been "documented as the third most beautiful women in the world."
G/O Media may get a commission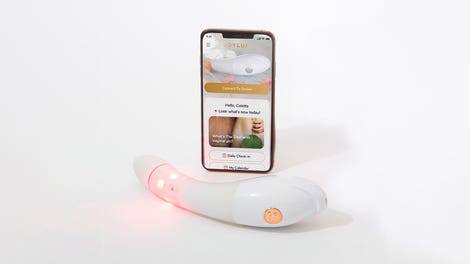 $50 Off
Joylux vFit Gold Device
Actually, it's the maids that have something to worry about — rampant abuse. According to Sharq, "more than 1.5 million housemaids from the Philippines, Indonesia, Sri Lanka and other Asian and African nations work in Saudi Arabia," but the number of Southeast Asian domestic workers in Saudi Arabia took a major hit after Saudi Arabia itself imposed a ban on the arrangement. The Philippines also said it would stop sending domestic workers to three Gulf countries because it could not assure that their human rights would be protected, a decision cheered by Human Rights Watch. This weekend, one Filipina maid was sentenced to a year in prison for allegedly stealing her employer's dirty underwear, which migrant worker advocates said was a setup.
In June, the Indonesian government took similar steps amid mass protests after a 53-year-old grandmother was executed in Saudi Arabia. A second Indonesian domestic worker (pictured above) was freed from death row after spending three years in jail for killing a man who tried to rape her. Indonesia recalled its ambassador to Saudi Arabia and banned its workers from the kingdom.
Maid From Morocco? No Thanks, Say Saudi Wives [Emirates 24/7]
Filipino Maid Jailed In Saudi Over Dirty Underwear [Global Inquirer]
New Ordeal For Indonesian Who Escaped Saudi Sword [AP]