Saudi Arabia is the only remaining country in the world where women aren't allowed to drive a car.
So when a policeman stopped one of the women participating in yesterday's "coordinated nationwide protest" of the driving ban, he wasn't sure how to react.
I mean, just think of it. A woman. Driving. It's like imagining an elephant riding a bicycle!:
We pull over. The cop walks up to the drivers side, and, flummoxed by the sight of a woman in a full-face veil at the wheel, scurries over to the passenger side to confer with [her husband,] Mohammad al Qatani.

Mohammad steps out of the car with the cop, and is escorted to the waiting cruiser .... Another cop leans into the passenger side window to bark at Maha al Qatani. "Does your husband know how to drive?" he asks. Al Qatani replies yes. "Then why was he in the passenger seat?"
Maha raises her normally quiet voice in defiance. "I am taking my rights. I am driving. Why do I have to rely on Indians and Pakistanis to drive me around?" she shoots back, referring to the common Saudi practice of hiring immigrant drivers.
In case you were wondering, a correspondent from Time happened to be in the backseat of the car during all this, which is why it was as carefully documented as it was. Otherwise the "outlandish" sight of a woman driving —when her husband clearly could and "should" be driving her— would have become the stuff of legend!
The officer looks stricken. "I don't know what to do," he says plaintively. He has never been faced with a female driver before. "If I raise it up [the issue of her driving] it is wrong. If I let you go it is wrong." Maha al Qatani just stares him down.

After a tense half hour, Mohammad al Qatani returns with the cop at his side. Maha shifts to the passenger seat, and Mohammad takes the wheel. He silently hands her a yellow sheet of paper. Maha al Qatani stares at it for a moment, her brow furrowed in confusion. Then she breaks into peals of laughter.

Raising her fists in a victory salute, she shouts, "It's a ticket. Write this down. I am the first Saudi woman to get a traffic ticket."
G/O Media may get a commission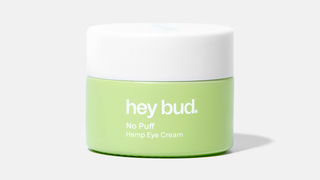 15% off
Hey Bud - No Puff Hemp Eye Cream
A half hour. The "moral quandary" took a half hour.
That said, I'm pleased to leave you with a glimmer of hope:
House Minority Leader Nancy Pelosi (D-Calif.) tweeted, "Beep beep and solidarity to the Saudi women & supporters challenging the driving ban!"

Pelosi was retweeted by Rep. Karen Bass (D-Calif.), who also posted her own message: "I stand in solidarity with Saudi Arabian women participating in the #Women2Drive Campaign today."

Rep. Donna Christensen (D-Virgin Islands), the first female physician in the U.S. Congress, sent this tweet: "In my doc practice some US men did everything to prevent wives driving. They couldn't! Drive SA women Drive!"
Additionally, a number of Congresswomen have signed a public open letter declaring solidarity with Manal al-Sherif, a woman who was arrested and jailed last month after posting a video of herself driving on YouTube:
The letter ends with the politicians saying: "The letter ends with the politicians saying: "As members of Congress, we proudly stand in solidarity with you and all Saudi women you represent as you pursue your goals and wish to offer our support in helping to bolster your efforts to empower Saudi women. We look forward to following your progress." The letter is signed by Carolyn B. Maloney (D-NY), Mazie K. Hirono (D-Hawaii), Lucille Roybal-Allard (D-Calif.), Gwen Moore (D-Wis.), Tammy Baldwin (D-Wis.) and Doris Matsui (D-Calif.)
Saudi Policeman Completely Flummoxed by Female Driver [NYMag]