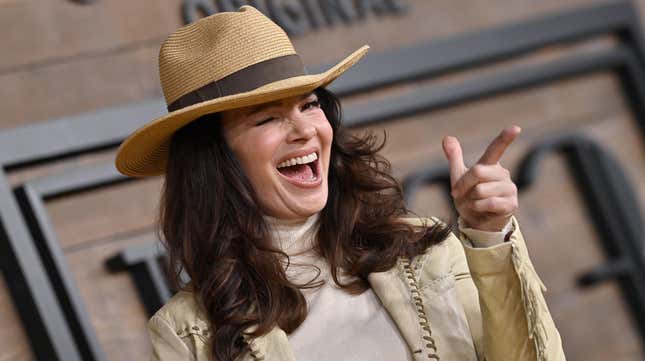 Depending on how rotted out your brain is, you might be aware that sisters Kim Kardashian and Kourtney Kardashian Barker are feuding over who owns claim to the dolce vita lifestyle. While I'm can't bring myself to take sides in the year's most out-of-touch squabble, what I will say is that only one of them was partying with Fran Drescher in Italy for Dolce & Gabbana's Alta Moda show.
Drama follows the middle Kardashian sister wherever she goes—as we know from watching her life play out for years—and the D&G show was no exception: After Kim snapped a photo with The Nanny star, Drescher got what I would deem an appropriate amount of heat for partying in Puglia ahead of her union's historic strike vote.
Drescher has been SAG union president since September 2021 and right now, it looks possible that SAG will follow in the WGA's footsteps on the picket line. If they do, it'll be the first time both major unions have been on strike in 63 years. Historic twinning!
SAG includes big names like Jennifer Lawrence but also the working actors whose names you'll never know, and many members are obviously nervous about their livelihoods going on pause. And on the eve of the strike being negotiated in Los Angles, Fran is posing for selfies with a woman whose been accused of scabbing during the writers' strike for filming American Horror Story.
Fleishman Is In Trouble creator Taffy Brodesser-Akner tweeted, "Unless the bargaining table has moved to Italy (along with the dress code), this is a terrible look for a union president." Mary Dunbar, who's running against Drescher for president told Deadline, "This is a clear example of how out of touch the President is with the majority of the rank-and file-membership." Not the drama union serving drama!!
This isn't Drescher's first time at odds with her union. She's been super vocal against vaccine mandates, and also has spread vaccine misinformation.
That energy is decidedly not aligned with the dolce vita lifestyle, if you ask me.
---