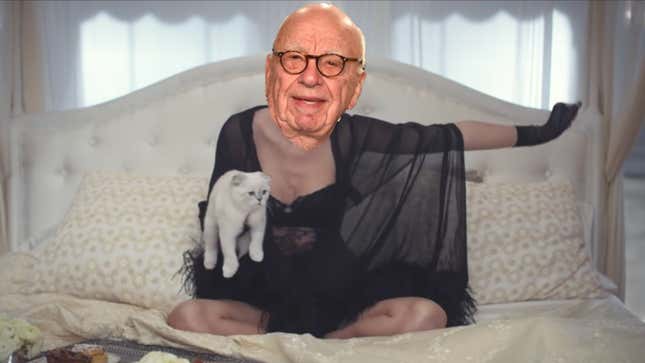 More than his tendency to ruin democracies, stoke the fake news flames, or still be alive, I am most dumbfounded by Rupert Murdoch's thriving love life. The man is the living, breathing embodiment of Taylor Swift's "Blank Space"... apart from the line that says "we're young" and the line about being a nightmare dressed like a daydream. (He is not dressed like a daydream.)
Britney Spears Escapes Family Drama By Going to First Bar
The 92-year-old billionaire got divorced from his fourth wife, Jerry Hall, in June 2022 after six years of marriage. Then he met the conservative San Francisco police chaplain, 66-year-old Ann Lesley Smith, a month later. They started dating and were engaged by March. "I was very nervous. I dreaded falling in love — but I knew this would be my last," he told his own New York Post at the time. "It better be. I'm happy." Well, that engagement lasted exactly two weeks before Murdoch broke it off because, according to Vanity Fair, he grew "increasingly uncomfortable with Smith's outspoken evangelical views." And now, the Daily Mail has reported (and published photos) that the Australian Pisces is dating Elena Zhukova, a 66-year-old retired Russian scientist whom he reportedly met through his third wife, Wendi Deng. The Guardian has "independently confirmed" this relationship. Incredible! All of it. Mostly the part about Murdoch still being alive enough to date.
The Guardian reported that, since Murdoch is on such good terms with Deng, he gets invited to all the family functions that involve their two children, 20-year-old Chloe and 22-year-old Grace. He met Zhukova at one of these parties and they hit it off. Zhukova, according to the Daily Mail, is "a molecular biologist and specialist in diabetes" who came to the U.S. with her daughter after the Soviet Union collapsed in 1991 and has lived here ever since. Before retiring, she worked at the medical research unit at UCLA.
Zhukova has two ex-husbands of her own, one of whom is Russian billionaire Alexander Zhukov. Their daughter, Dasha, is an art collector and socialite who was previously married to the Russian oligarch Roman Abramovich. Dasha and Abramovich divorced in 2017 and then she married Stavros Niarchos, a Greek shipping magnate, in 2019. Deng is an investor in Dasha's non-profit art foundation, so Dasha is definitely guilty in this set-up as well. (Also, all of these adjectives and "jobs" feel like covers for more-nefarious things, so who knows what else these people are guilty of.)
In any case, Zhukova and Murdoch have reportedly been cruising around the Mediterranean together for weeks, and have been spotted on not just one but two yachts. First, they were aboard the Christina O: an 18-bedroom, $767,000-a-week superyacht that was once owned by Aristotle Onassis, and was where he first met (and wooed!) Jackie Kennedy. The Christina O is also the same yacht where Grace Kelly held her wedding reception after marrying Prince Rainier of Monaco in 1956.
The Daily Mail described the second yacht as "unidentified," though Murdoch was spotted lunching in Positano with his son, Lachlan, and daughter-in-law, Sarah, who sailed in on their brand new $150 million yacht, the Sarissa. (Where are the orcas when you need them??)

According to SuperYachtFan.com, Murdoch of course has his own yacht, the Vertigo, which was built in 2011 and designed by Philippe Briand. No one has yet reported on the whereabouts of Veritgo and Jezebel's own yacht correspondent is permanently on vacation.

Rumors flying? Long list of ex-lovers? Magic, madness, heaven, sin? (Emphasis on the madness.) The story would be an epic if it didn't star such a real-life villain. My money is on the relationship or, even better, Murdoch himself going down in flames.