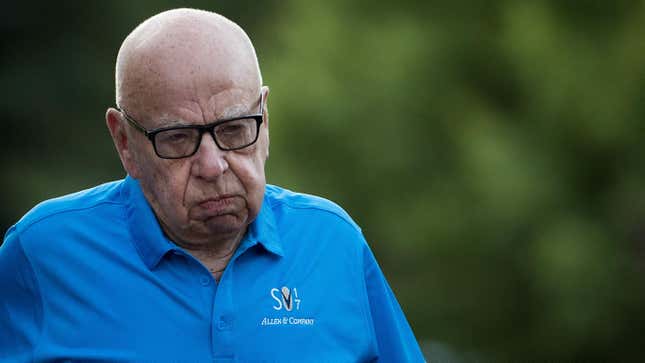 Imagine, if you will, a man finalizes his divorce in August of 2022. A month later he meets a new woman and a courtship ensues. Within six months they're engaged and plan to marry by late summer 2023. Moving too fast? Perhaps! But time is of the essence when you're 92 and a lawsuit over one of your largest moneymaking operations spreading election disinformation looms. And sitting alone with your corrupt thoughts must be a huge bummer when you're evil billionaire tyrant Rupert Murdoch. Wedding bells! They're ringing! Louder! Louder!

Betsy Wolfe Reveals the 'Most Embarrassing Thing That's Ever Happened' to Her on Stage
"I dreaded falling in love—but I knew this would be my last. It better be. I'm happy," the media titan told his own gossip rag, the New York Post, about his plans to marry Ann Lesley Smith, 66, the San Francisco police chaplain. I suppose the statement also serves as an acceptance of the inevitable death he's joked in the past about dodging: "I'm convinced of my immortality." Though, the 92-year-old also told the Post, "We're both looking forward to spending the second half of our lives together." "Half" is such a generous outlook.
I can't help but feel the couple's St. Patrick's Day engagement, announced Monday morning, might be serving as a fun diversion from the Dominion Voting Systems lawsuit against Fox News that's kicking off tomorrow. Any Google search of Murdoch's name right now leads you to celebratory news about the nonagenarian's upcoming nuptials and not the multi-billion dollar defamation suit against Fox for spreading election disinformation. Funny! It's almost as if the media magnate who knew his news corporation was endorsing lies about the 2020 election has a perverse and keen understanding of the public's attention span.

The lovebirds met in September at Murdoch's Moraga vineyard in Bel Air, California. It just so happens that Smith, who is the widow of country singer and founder of Univision Chester Smith (she loves her elderly media moguls), also used to own a vineyard. They bonded over what it's like to own vineyards—a sentiment deranged enough to be fit for print in, like, Town & Country's vows announcements.
This will be Murdoch's fifth marriage, and the third within a year of the previous one ending. Last summer he divorced former supermodel Jerry Hall, and before that was married to Wendi Deng for 14 years before splitting in 2013. He married Deng 17 days after finalizing his divorce from his previous wife. 17 days!!! I'm simply left wondering what sorts of things run through the mind of such a man that make him so averse to spending time alone. Of course, I can imagine. The whole Dominion Voting lawsuit, the sexual abuse allegations against the people he employs in the companies he runs. You know, the allegations he brushed off as "largely political" and "nonsense." Maybe the incessant search for a mate is to stave off any temptation to finally watch Succession, a show modeled after his own excessive lifestyle. May Smith and this budding love bring a new springtime of distraction into Murdoch's contentious golden years.