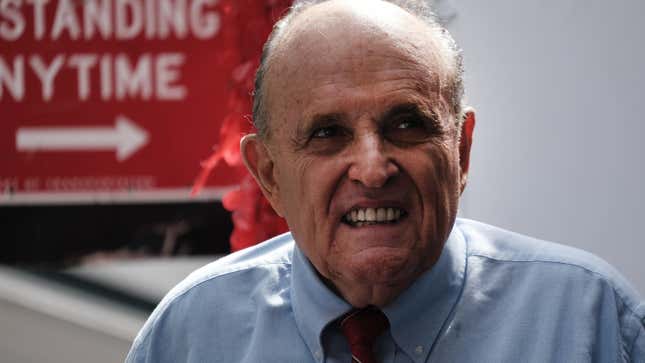 Noelle Dunphy, a former assistant to Rudy Giuliani, brought forth a bombshell lawsuit against him in May alleging rape, sexual abuse, withholding millions in wages, and soliciting Dunphy's help to try to sell presidential pardons. Giuliani responded by claiming the two had briefly shared a consensual sexual relationship and denying Dunphy's extensive sexual abuse allegations. But attorneys for Dunphy on Tuesday filed a motion seeking sanctions against Giuliani for lying, in which they've presented new, alarming evidence to supplement the plaintiff's previous claims.
This evidence includes numerous transcripts of audio recordings of disturbing comments from Giuliani about Dunphy, as well as Jewish people, Matt Damon, and Michael Bloomberg, certified by a court-reporting agency. Some of the transcripts show Giuliani in 2019 telling Dunphy, "I want to own you, officially… Legally, with a document." Another transcript shows him calling her "my daughter" and "my little girl." Transcripts also show him referring to Dunphy as "big tits" and saying, "Come here, big tits. Come here, big tits. Your tits belong to me. Give them to me [indiscernible]. I want to claim my tits. I want to claim my tits. I want to claim my tits. These are my tits." Others show Giuliani calling Dunphy "my bitch," "my whore," and "my fucking slut" at different points.
Also in 2019, he tells Dunphy she's made him sapiosexual: "I can't think about you or I get hard. Even if I think about how smart you are, I'll get hard. I'd never think about a girl being smart. If you told me a girl was smart, I would often think she's not attractive." An attorney for Giuliani did not immediately respond to a request for comment from Jezebel on the new transcripts.
Back in May, Giuliani responded to Dunphy's allegations by referencing her ex-partner's inaccurate and misogynist statements about her, accusing her of being "an escort that fleeces wealthy men." The statements from Giuliani were especially problematic, as Dunphy's lawsuit accused him of leveraging an offer of pro-bono representation in an ongoing matter with "an abusive ex-partner" to entrap her. "Ms. Dunphy is an incredibly strong survivor of abuse, and rather than dwell on her ex-partner, she is focused on bravely pursuing her claims arising from her experience while working for Mr. Giuliani," Justin T. Kelton of Abrams Fensterman, an attorney for Dunphy, told Jezebel in a statement on Wednesday.
Giuliani's main approach to denying Dunphy's allegations—many of which are substantiated with audio recordings—is to smear her, Kelton notes. And part of that smearing has involved weaponizing past relationships and abuse against her. "Mr. Giuliani and his team have consistently sought to attack Ms. Dunphy by making false assertions about irrelevant matters. It's an obvious ploy to distract from the very serious claims he is facing," Kelton told Jezebel. "We are confident that the jury will ignore Giuliani's smear campaign and focus on the relevant evidence presented at trial."
The motions Dunphy's legal team filed this week also cite Giuliani's extensive history of being caught lying in a number of other legal cases he's been involved in. In his 2018 divorce proceedings, Giuliani denied having an extramarital affair. But Dunphy's legal team shared transcripts that show Giuliani speaking at length about his affair with a woman his ex-wife had accused him of cheating on her with.
The new transcripts presented by Dunphy's lawyers also show Giuliani making a range of horrific comments, including anti-Semitic jokes about Jewish men's genitals, accusations that Bloomberg is gay, and similar accusations that Matt Damon is gay. At one point, Giuliani refers to Damon with the homophobic F-slur.
In Dunphy's suit against Giuliani, she alleges the former New York City mayor denied her wages by repeatedly claiming he had to hire her under the table because of his ongoing divorce. Dunphy claims Giuliani promised her $2 million in wages but ultimately paid her just $12,000 over two years. To entice her to accept the job as his assistant in the first place, the suit states, "Giuliani also offered to provide pro bono legal representation to Ms. Dunphy in connection with an ongoing dispute arising from an abusive ex-partner."
It was this offer that helped convince Dunphy to accept the position, her suit says, because she viewed "free legal representation as being worth the wait." But nothing came of these promises: "Giuliani's seemingly generous offers were a sham motivated by his secret desire to pursue a sexual relationship with Ms. Dunphy—in total disregard for the restraints that should have protected her as his employee and client."