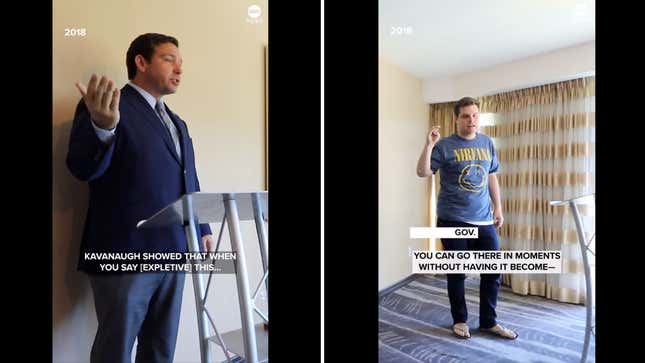 As Florida Gov. Ron DeSantis (R) prepares to launch a presidential bid, more of his awful history is beginning to come out. ABC News obtained hours of debate prep footage from DeSantis's 2018 gubernatorial campaign which shows him and adviser Rep. Matt Gaetz (R-Fla.) working through how to respond to criticism over a racist comment DeSantis made about his Democratic opponent, Andrew Gillum. In August 2018, DeSantis urged people not to vote for Gillum, who is Black, because "the last thing we need to do is monkey this up by trying to embrace a socialist agenda."
Taylor Lautner Doesn't Even Remember Saying 'Bella! Where the Hell Have You Been Loca?'
DeSantis said in the footage he was concerned that he would become "a mini version of Kavanaugh," a reference to what he likely saw as overly critical news coverage of Brett Kavanaugh's aggressive reactions when facing sexual assault allegations during his Supreme Court nomination process.
Still, DeSantis said, "If I show any weakness on that, I think I lose my base." He said he wanted to "speak to those people" who felt "political correctness has gone too far." Gaetz told DeSantis that he was coming in "too hot" on defending the comment, to which DeSantis responded, "It deserves to be hot!" Gaetz said, "You can go there in moments without having it become—" before DeSantis interrupted: "Kavanaugh showed that when you say 'fuck this'..." (You'll recall that Kavanaugh was practically spitting with anger when he addressed the allegations in front of the Senate.)
Here's a partial clip from a mock debate. (And yes, Gaetz is wearing a Nirvana t-shirt and flip flops, looking like he's headed to pick up teenage girls on spring break after this.)

DeSantis's wife Casey, aka wannabe-FLOTUS Barbie, was there for one practice session and chose to weigh in with an interesting "explanation" for monkeys being on Ron's brain, ABC reported:

During one of the prep sessions, the governor's wife, Casey, attempted to provide an explanation for the governor's "monkey it up" comment: that DeSantis had only said "monkey" because he had been reading their daughter's favorite book, "Five Little Monkeys Jumping on the Bed," to their kids at night.

When Casey asked the room if that explanation would "matter," Gaetz quickly responded, "Nobody cares."

"Nobody cares?" Casey, off camera, replied.

"Not even a little," Gaetz said.
The footage also shows DeSantis downplaying comments made by right-wing author David Horowitz, whom DeSantis had praised and who had hosted a number of conferences where DeSantis spoke. Horowitz had said that Black Americans didn't feel "gratitude" toward white people for their "sacrifices" in ending slavery. In an October 2018 debate, DeSantis said of Horowitz, "How the hell am I supposed to know every single statement someone makes?" but debate prep video shows him saying Horowitz's comment was "stupid" but not racist. Gaetz cut him off, saying, "You will not win" that argument. DeSantis agreed, responding: "I know, I'm not gonna — I can't win that, I know."
Gaetz, for his part, has already endorsed Trump for 2024.

DeSantis's office didn't respond to ABC's request for comment. But Erin Perrine, communications director for Never Back Down, the super PAC supporting DeSantis, told the outlet: "Half-decade-old material leaked by bitter former staffers actually shows the governor dismissing nonsense and focusing on the facts about his goals and record...Gov. DeSantis' never backing down to the bias media [sic] is a big reason why Americans are behind him in the first place."
We're on the edge of our seats awaiting the next leak.