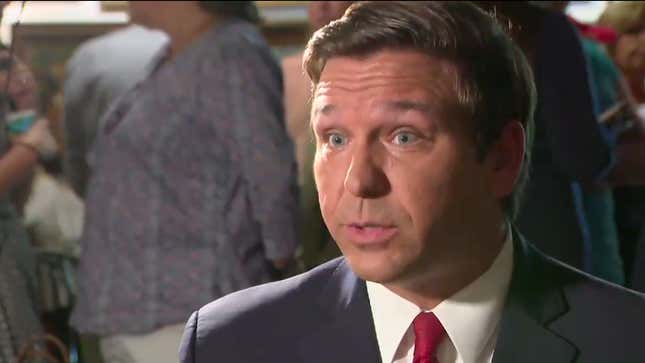 More news outlets are looking into the time that Florida Gov. Ron DeSantis (R) spent at Guantánamo Bay as a Navy lawyer, and what they're finding is not good.
Taylor Lautner Doesn't Even Remember Saying 'Bella! Where the Hell Have You Been Loca?'
Guantánamo is the Cuban naval base that the U.S. government used after 9/11 to detain and torture suspected terrorists—many of whom hadn't been charged with a crime—and the likely presidential contender served there for several months in 2006 when he was 27. Previous stories alleged that DeSantis personally witnessed the force-feeding of detainees who were engaging in hunger strikes, a vicious practice that multiple human rights organizations have deemed torture.
Now, a Washington Post deep dive on DeSantis's time as a legal adviser at Gitmo found that the majority of his service was ensuring legal procedures were followed during detention and interrogation (that is, making sure the torture was done correctly). The report unearthed a local news interview DeSantis gave in 2018 during his first run for governor where he talked about the legality of force feeding—where detainees were strapped into chairs and the military shoved a plastic tube down their nose—in striking terms. DeSantis suggested hunger strikes were a tactic of "jihad" rather than one of the only ways detainees could protest their indefinite detention. He said:
For these detainees, the jihad was still ongoing, and they would wage jihad any way they can. Now they're in a facility, so it's limited. But some of the things they would do, they would do hunger strikes, and you actually had three detainees that committed suicide with hunger strikes. So everything at that time was legal in nature one way or another, so the commander wants to know, 'Well, how do I combat this?' So one of the jobs of the legal adviser would be like, 'Hey, you actually can force feed, here's what you can do. Here's kind of the rules of that.' You also had a lot of detainees claiming abuse because this was in the wake of Abu Ghraib, and that was used offensively against our guards. So our guards would have feces thrown out of all this other stuff and yet they would be charged with detainee abuse. So we had to evaluate all that. So what I learned from that and I took to Iraq when I was working with SEAL Team One is, they are using things like detainee abuse offensively against us. It was a tactic technique and procedure.
The comments come around 40 seconds into the video below.
Former detainees have told reporters that they threw feces, vomit, and urine at prison officials, including DeSantis, another protest tactic which he appears to corroborate in the video.
The Post report also raises questions about those three detainees who died by suicide on the same night in June 2006. Navy officials said in a later report that the men coordinated to kill themselves after they'd been force-fed following a hunger strike, which is not quite what DeSantis suggested in the 2018 interview. But a former guard, human rights groups, and attorneys for detainees dispute that they died by their own hand. Lawsuits filed by the detainees' family members against the government have been unsuccessful, but former Army officer Joseph Hickman alleged in his memoir—Murder at Camp Delta: A Staff Sergeant's Pursuit of the Truth About Guantánamo Bay—that the three men died after an interrogation gone too far. The Post reported that four unnamed Navy legal officers worked on the death investigation; it's possible DeSantis was one of them.
DeSantis did not respond to the Post's request for comment, and nor did he respond to reporters writing similar stories for The Independent, McClatchy, or The Baffler.
The Post also confirmed reporting from The Baffler that DeSantis' favorite movie in law school was A Few Good Men, in which a baseball-playing Navy lawyer defended Marines accused of murder at Gitmo. (In the 1992 movie, a fellow Marine died in a hazing incident.)
After he was elected to Congress in 2012, DeSantis became a leading proponent of keeping Guantánamo open despite the annual cost of $2.7 million per prisoner—and, well, everything else.