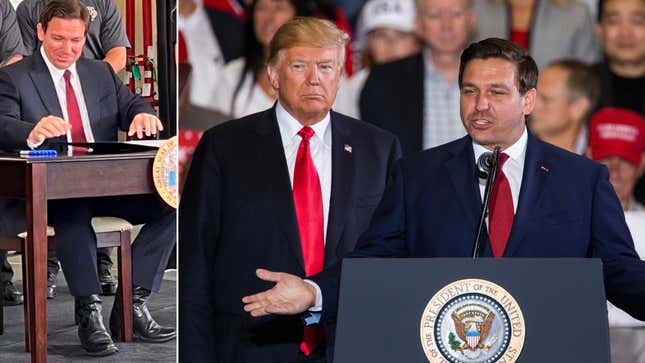 As a follower of Florida Gov. and likely presidential hopeful Ron DeSantis' (R) varying moral crimes against queer kids, marginalized people, and even books that dare to mention LGBTQ+ issues, I feel obligated to direct your attention now to the irony of him continually wearing high heels. You see, American presidents tend to be tall. We rarely elect presidents under six feet tall, actually—a fact pointed out by Burlington County Times, which coldly quipped that "manlets" (ostensibly men under six feet) "need not apply" to the office. This is deeply intertwined with the fact that America has never elected a woman president: Voters still seem to be hanging onto this idea that a president has to appear manly and strong, though masculinity and physical strength literally have nothing to do with the job description.
Infamously Thin-Skinned Man Joins Twitter's Board
Enter DeSantis, whom varying sources approximate to be in the height range of 5'8" to 5'10". A lot of pundits are taking note of the authoritarian governor's apparent height deficit and concluding that he is simply too short to win the presidency without compensatory shoes, podium stools, and photoshop stretching—especially not while standing next to someone taller, like Donald Trump (6'3"). And now, just days after DeSantis appeared in public in heels that I, a noted heel-wearer, would wager give him a good three inches, a new Bloomberg report revealed that among other disparaging nicknames, former President Trump is entertaining the idea of calling DeSantis "Tiny D." This conveniently doubles as a dig at both his height and his dick.
I know what you may be thinking: Who cares?? Abortion access and trans existence are under the attack; what does DeSantis' height have to do with these daunting political realities? But I would argue that an unrepentant bigot who's determined to ban drag going around wearing heels—an act that's obviously fine and even encouraged in itself—is quite ironic and hypocritical. The internet is certainly mocking him for it.
"For a guy who hates drag, he sure does love the high heels," one user wrote in a tweet with a photo of DeSantis on stage in heeled boots.
Sharing the same photo, Washington Post columnist Jennifer Rubin wrote, "his heels look rather high. is he embarrassed about his height?" Last month, over on Trump's Truth Social, right-wing political operative Roger Stone shared a graphic for a speaking event with DeSantis and Ben Shapiro with the caption, "Two short guys sitting around talking." Sharing a screenshot of the post in a tweet, liberal media personality Ron Filipkowski observed, "Height is a big thing in Republican politics. Which is why Desantis wears the platform heels." Talking Points Memo founder Josh Marshall last month disseminated a Twitter poll questioning the importance of "determining Ron DeSantis's true height (prior to any surgical leg extensions, if they occurred)"—"We need the truth now" was the most popular response.
Amid the scrutiny surrounding DeSantis' height lately, his supporters seem to be in damage control mode. On Sunday, one supporter shared a pretty ordinary photo of DeSantis with the caption, "Holy cow, @GovRonDeSantis looks FIT and ready for combat. Not sure how much weight he's lost, but his health/appearance is not going to be one of Trump's punchlines in the debates." It sure reads like a desperate plea to Trump to not hit DeSantis' "health/appearance," which will inevitably go unheard.
Trump, of all people, is not one to mince words on height, size, and vigor. Sen. Marco Rubio (R-Fla.), once seen as a front-runner for the 2016 Republican presidential nomination, was tanked by two words from Trump's lips: "Little Marco." Trump wiped out a crowded field of competitors by referring to them as "lightweights." He amplified and laughed along with a supporter who called former rival Ted Cruz a "pussy" at a rally, all while disparaging Cruz's wife's appearance.
Presidential campaign trails, which have historically always been glorified sausage fests, became a phallic parade of masculine domination under Trump's direction in 2016 and 2020. His speeches and debate performances abounded with self-references to his supposed horse schlong of a penis. (This obsession with his dick size seems to imply the "Tiny D" moniker may poke at more than height.) Further, whenever another Republican rival bit the dust, Trump made a show of displaying their submission to him, allegedly reducing Chris Christie to a glorified butler, tasking former RNC chair Reince Priebus with swatting a fly for him, and—after all his comments about Cruz's wife—appearing to force the Texas Senator to phone-bank for him in something akin to a hostage video. In 2020, just as "mini" Mike Bloomberg's presidential campaign began to pick up steam, Trump made a series of appearances mocking the former New York City mayor's 5'4" height.
None of this bodes particularly well for DeSantis' odds against the former president when campaign season begins in earnest later this year. It seems inevitable, even, that Trump—who's already called DeSantis a "disloyal" "bullshit artist" and even a literal groomer—will blast out these emasculating photos of DeSantis appearing to embody the "Virgin vs. Chad" meme alongside Joe Biden. (Peruse a lengthy, artful explanation of just how damning the photos are, here.)
DeSantis and Trump will likely soon vie against each other for a base that fanatically subscribes to dated and undeniably toxic standards for masculinity, in no small part because of the aggressively stupid culture war talking points that both men are routinely spewing. Between DeSantis' height and feminized fashion choices, he's given Trump no shortage of material to work with. "Tiny D" might just be the tip of the iceberg. It's still March, people; the claws aren't even out yet.