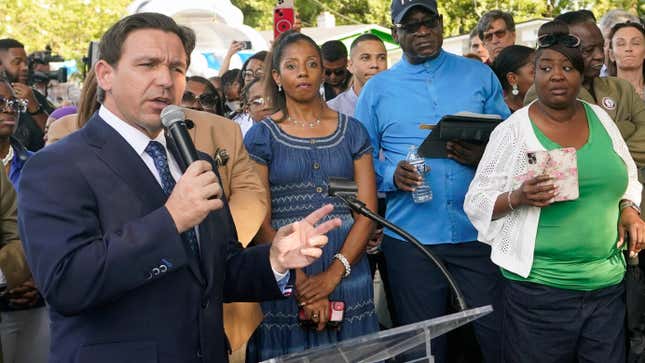 A 21-year-old white man wielding a gun with a swastika emblazoned on it shot and killed three Black people at a Dollar General store in a Black neighborhood in Jacksonville, Florida, on Saturday, after being turned away from a historic Black college. The shooter, of course, had an extensive trail of white supremacist internet ramblings. Then Florida Gov. Ron DeSantis (R), who's defended a new public school curriculum that teaches the "benefits" of slavery for enslaved people, somehow mustered the courage to show up to a Sunday vigil for the shooting victims—and his appearance and remarks went over about as well as anyone (but DeSantis) could have predicted.

The Associated Press reports that DeSantis was "loudly booed" as he addressed the crowd, requiring Ju'Coby Pittman, a Jacksonville city councilwoman representing the neighborhood where the shooting happened, to intervene to and ask the crowd to listen. Pittman declared that "it ain't about parties today," but, of course, the backlash against DeSantis seems less about his status as a Republican and more about every action he's taken to harm especially Black communities, including policing the teaching of Black history and his jarring attacks on voting rights.
You can see the footage of DeSantis being loudly booed as he and his wife, Casey, walk to the podium, below. The booing is so intense that DeSantis' initial remarks are practically inaudible:
Of course, it's not as if DeSantis said anything of importance. He called the gunman a "major league scumbag," which will surely put an end to endemic gun violence enabled by the pro-gun policies that DeSantis supports. And he promised more funding for security at Edward Waters University, the historically Black college near where the shooting occurred, which is little more than a questionable band-aid, seeing as schools that are subjected to deadly mass shootings often already have extensive security personnel.
"What he did is totally unacceptable in the state of Florida," DeSantis said of the shooter. "We are not going to let people be targeted based on their race." The comments are similar to his remarks at the Florida governor's office, also on Sunday, where he stated that "targeting people due to their race has no place in the state of Florida."
Never mind that Florida is such a notoriously hostile place to Black people that the NAACP literally issued a travel advisory there this year. Black teachers in Florida could be investigated and punished for talking about their own lived experiences in the classroom. Black students will have to hear that slavery was beneficial. One of DeSantis' former campaign aides shared pro-Nazi social media content. The call is coming from inside the house!
DeSantis, at least, may have been a bit shaken by the booing: Since the Sunday afternoon vigil, Politico reports that the governor has canceled campaign events across the state. But that also could just be because Tropical Storm Idalia is set to make landfall later this week. Probably best not to assume this man is capable of any kind of self-reflection!