Roger Ailes, the founder and former chief executive of Fox News, is dead, his wife told the Drudge Report. His goblin spirit will live on, however, in Fox News' disgustingly predatory workplace culture, and the racism, xenophobia, hatred, fear and allergy to facts the network has inspired in millions upon millions of Americans—a long-running propaganda campaign that fairly directly led us to the mentally incompetent and anti-democratic president who is currently undermining our national security, and whom Ailes advised. He was 77.

"I am profoundly sad and heartbroken to report that my husband, Roger Ailes, passed away this morning," his wife Elizabeth, said in a statement; Ailes' death was confirmed by Fox News. "Roger was a loving husband to me, to his son Zachary, and a loyal friend to many. He was also a patriot, profoundly grateful to live in a country that gave him so much opportunity to work hard, to rise — and to give back."
Many bad things that have happened in this country might not have happened without Roger Ailes. Before he made Fox News a dominant force in the media landscape, Ailes was a political consultant who helped both Nixon and Reagan get elected. A few days after the 9/11 attacks, at which point Ailes was with Fox News, he encouraged President George W. Bush to employ the "the harshest measures possible" in response. Ailes, who was bullied as a child and has said that his father beat him with "an electric cord, a belt, whatever was handy," started working at NBC in the early '90s, where then–NBC executive David Zaslav told HR that Ailes had called him a "little fucking Jew prick" and later told investigators that he feared for his safety, New York's Gabriel Sherman reported.
Ailes resigned from Fox last summer in an explosion of horrifying sexual harassment and retaliation accusations from more than 20 women, including Fox contributors Gretchen Carlson, Megyn Kelly, Andrea Tantaros, Julie Roginsky, and Laurie Duhe. "I think you and I should have had a sexual relationship a long time ago, and then you'd be good and better and I'd be good and better," Ailes said in a recording made by Carlson. Less than a year after Ailes was ejected from the company, his hire Bill O'Reilly was also booted following a New York Times report that around $13 million had been paid in settlements to women who'd accused O'Reilly of sexual harassment; Jezebel recently reported that O'Reilly's ex-wife swore in an affidavit that he dragged her down the stairs by the throat after she discovered him engaging in phone sex. Fox News is also facing a number of ugly racial discrimination lawsuits.
Gabriel Sherman, Ailes' biographer and the reporter who broke this story, was the subject of a long-running discrediting and intimidation campaign by Ailes that included a 400-page dossier; New York magazine eventually hired a bodyguard for Sherman following a Politico report that Ailes had said he would "send people to beat the shit out of" Sherman. Sherman had reported that Ailes used portions of the Fox budget to finance "the Black Room," a PR and surveillance operation that Ailes used to target his enemies (a list that included then-Gawker employees Hamilton Nolan and John Cook).
G/O Media may get a commission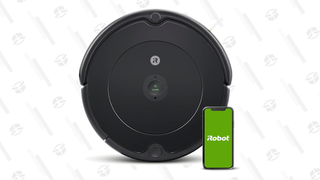 35% Off Black Friday Deal
iRobot Roomba 694 Robot Vacuum
Here are some people who appear quite upset over his death:
Here are some people who are not:
Pour one out for Roger Ailes, who's out there somewhere in the great, mysterious beyond, twirling exhaustedly for all eternity.