In 2015, former Fox News host Andrea Tantaros reportedly made several hostile workplace and sexual harassment claims against the now-ousted network chief Roger Ailes, although the network has maintained that they received no complaints about Ailes until anchor Gretchen Carlson filed a harassment suit against him. The ensuing investigation resulted in numerous other women sharing similar stories.
In a separate $49 million lawsuit filed in August 2016, Tantaros contended that she was demoted and then permanently banned from the organization due to these complaints. In that lawsuit, she also accused Fox News executives Bill Shine, Suzanne Scott, Irena Briganti and general counsel Dianne Brandi of condoning Ailes' harassment and retaliation. And in a new interview published Wednesday in Esquire, she doubled down on her claims against the executives, and says she at one point "naively" defended Ailes against reporting done by New York's Gabriel Sherman, who has been threatened with legal action over his work.
"Fox News operates as a dictatorship," she said. "Ailes couldn't act by himself. He needed lieutenants. He needed a regime. And so they carried out his orders. They covered up his grotesque misdeeds."
From Esquire:
When The Five came along in 2011, Fox offered her a contract, six figures a year for three years, to work full-time on the show. Tantaros says she chafed when she read that Ailes had described her as "the leg." ("I do have a brain and speak five languages," she told me.) But she also understood that "Foxified" hosts were part of what Fox News was selling its audience, an aesthetic she described as "a rainbow of women with big hair and lip gloss." She says she was not allowed to wear pants or knee-high boots on the air; on set, she was usually positioned to give the cameras a generous view of her crossed legs. Even so, Tantaros told me, working on The Five was "my dream job."
G/O Media may get a commission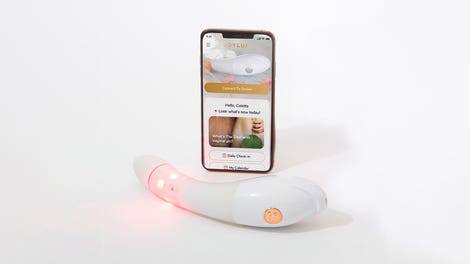 $50 Off
Joylux vFit Gold Device
As a member of that "rainbow of women," Tantaros told the magazine that twice a year, the wardrobe department would hold a trunk show for women on-air talent. "In front of a group of women, you are expected to completely disrobe," she said. "You have no privacy, and they make comments on, you know, your underwear set."
To Esquire, Tantaros recounted one day when Ailes called her into his office, asked her inappropriate questions and to do the Twirl—apparently a standard move of Ailes' in which he requested a woman employee "turn around so I can get a good look at you." She denied his request then, and then again several months later. Soon after, she was transferred from The Five to Outnumbered, a similar but fluffier program at a worse time slot.
Months later, Ailes decided to apologize, but allegedly made inappropriate comments again: "I bet you look good in a bikini," he said, according to Tantaros. "You're tough. You use men. He didn't get you what you wanted, so you dumped him. Isn't that what happened?" Another time, Ailes remarked upon passing Tantaros in the hallway that wardrobe needed to get her a tighter dress.
Tantaros says she made multiple complaints to Shine while this was going on. The first time, Shine reportedly promised to look into the issue. The second time, he held up a magazine with Ailes on the cover, said Ailes was"a very powerful man" and she "needed to let this one go."
As of September, Shine—who has, depending on your perspective on things, miraculously been promoted to co-president—and his associates named in Tantaros' lawsuit are still with the network.
"It's Fox News," said Tantaros. "Propaganda at its finest."