Less than a week after terror in a tie Bill O'Reilly's unceremonious ouster from Fox News, the media company is still embroiled in a steaming pile of crap. Eleven current and former Fox News employees have filed yet another racial discrimination suit against the company, alleging "abhorrent, intolerable, unlawful and hostile racial discrimination."

The latest lawsuit expands on the suit against former Fox News comptroller Judith Slate filed in March by Tichaona Brown and Tabrese Wright that was later joined by Fox News's manager for credit collections Monica Douglas earlier this month. CNN reports that the latest suit is headed by Kelly Wright, an anchor at Fox News who claims that he "has been effectively sidelined and asked to perform the role of a 'Jim Crow' — the racist caricature of a Black entertainer."
Wright's suit named O'Reilly as well as network co-president Bill Shine among others and the allegations contained point to a terrifically racist and discriminatory workplace that was inhospitable not only to women, but to its employees of color.
From CNN, emphasis ours:
The suit claims that Wright was shunned from O'Reilly's now-canceled program, "The O'Reilly Factor," and that Shine "has demonstrated an obsession with race when it comes to discussions with Mr. Wright, including regularly asking him, 'how do Black people react to you' and 'how do you think White viewers look at you?'"
In one alleged example, Wright claims that he was rebuffed in his efforts to show a series of positive stories about the African-American community on the "Factor" because, according to the complaint, "it showed Blacks in 'too positive' a light."
G/O Media may get a commission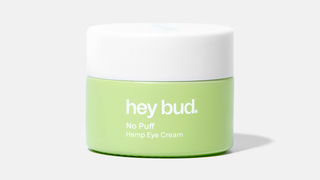 15% off
Hey Bud - No Puff Hemp Eye Cream
The lawsuit also include allegations from Musfiq Rahman, a former employee in Fox's payroll department, described in the suit as "a dark-skinned Bangladeshi" who allegedly ""suffered unconscionable and unrelenting race discrimination," including this horrifying claim against disgraced former Fox News chairman Roger Ailes. When Rahman allegedly entered Ailes's office by mistake, good ol' Rog responded in what can only be described as a gross, racist and frankly insane overreaction.
"The fallout for Mr. Rahman's 'mistake' was swift and severe," the complaint says. "Ailes was furious and his paranoia about being attacked came to the forefront. That same day, Ailes ordered that a wall be constructed immediately in his personal office to act as a barrier to entry."

It goes on to say that, the following day, Rahman and "a number of Black employees in the Accounts Receivable and Accounts Payable Departments, had their security passes to the second floor revoked."
Wait, there's more: the New York Times reports that a second suit was filed by former Fox News employee Adasa Blanco against Slater, Fox News and Fox News lawyer Dianne Brandi, alleging that while employees complained about racial discrimination to executives at the network, their complaints were ignored and the behavior continued unabated.
In a statement Tuesday, Douglas Wigdor and Jeanne Christensen, the attorneys representing all 13 plaintiffs, said that 20th Century Fox "has been operating as if it should be called 18th Century Fox."

Update: In a statement provided to Jezebel, a Fox News spokesperson said, "Fox News and Dianne Brandi vehemently deny the race discrimination claims in both lawsuits. They are copycat complaints of the original one filed last month. We will vigorously defend these cases."