Robert S. Harward, the man Donald Trump wanted for the recently-vacated role of national security adviser, has turned down the job, leaving a crucial role in the administration vacant.

On Monday, Trump fired his first national security adviser, Michael Flynn, amid a big ol' shit heap of controversy regarding his communications with Russia and the possible removal of Obama-issued sanctions just before Trump's inauguration. Harward, a retired vice admiral and Navy SEAL, was a reasonable choice for the role. And, likely due to that fact, he has declined the opportunity to work in the most insanely incompetent administration the United States has seen in years.
In an official statement, Harward cited the unrelenting hours required of the position as his reason for respectfully declining the role. From CNN:
"Since retiring, I have the opportunity to address financial and family issues that would have been challenging in this position. Like all service members understand, and live, this job requires 24 hours a day, 7 days a week focus and commitment to do it right. I currently could not make that commitment. My thoughts and prayers are with those that carry such heavy burdens and responsibility for taking care of our country's national security concerns. God bless this great country of ours."
That's a very nice statement. Also nice: according to CNN, a close friend of Harward's said that he called the job a "shit sandwich." Nicely said, Bob. The New York Times reports that there's a little more to this story. Part of Harward's hesitation to accept the role was due to the "level of chaos" that has characterized every move the current administration makes, as well as Donald Trump's ever-changing temperament, which is the nicest way to say that he's a maniac who runs hot, cold, then crazy at every turn.
According to Reuters, Harward wanted to bring in his own team—again, a rational decision that would make a lot of sense—but was disheartened by Trump allowing Flynn's deputy, K.T. McFarland, to remain in her position. Sources confirmed as such to CBS News: Harward made a reasonable request and was shot down by the White House, maybe because his team would've consisted of rational adults and not screeching, power-hungry babies hell-bent on ruining everything they touch.
G/O Media may get a commission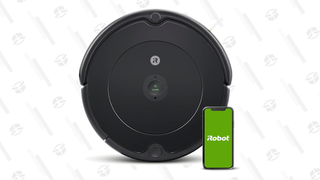 35% Off Black Friday Deal
iRobot Roomba 694 Robot Vacuum
During that unhinged press conference Thursday, Trump assured a reporter that he had someone in mind, saying "I have somebody that I think will be outstanding for the position," without clarifying who that person was. Some speculate that he was thinking of Harward, but he wiggled out of that mess in the nick of time.
So who could it be? Who will take this role? The Times reports that David Petraeus, the former head of the C.I.A. who had to resign from his position for leaking classified information to his biographer whom he was also sleeping with, is interested. Perfect.