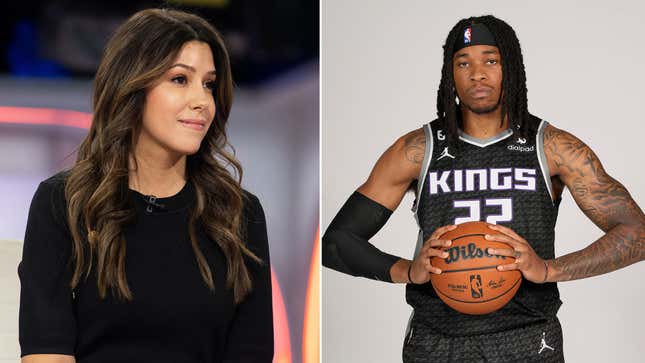 It's been almost a year since Johnny Depp won his defamation lawsuit against his ex-wife, Amber Heard, by deploying a range of victim-blaming tactics, to the horror of domestic violence experts and survivors. But the trial seems to have helped one woman: Depp's attorney, Camille Vasquez, whose legal tactics zeroed in on smearing Heard.

Politician Cites the Constitution to Eviscerate Gun Supporters
Vasquez appears to be carving out a niche for herself in representing men accused of abuse. According to the Wall Street Journal, she's now representing NBA player Richaun Holmes in his defamation suit against his ex-wife, who has accused Holmes of domestic violence and child abuse. The suit, filed earlier this month, alleges two counts of defamation—the first against Holmes' ex-wife, Allexis, and the second against the Sacramento Bee and Robin Epley, an opinion writer who covered the allegations against Holmes. The suit alleges that Epley's writing was "blatantly untrue," adding:
This is a case about journalism at its worst—a case about a newspaper and one of its new reporters clinging to, and cashing in on, a false narrative, steeped in harmful racial stereotypes… Yet despite being vindicated in court, Plaintiff has been wrongfully labelled [sic] an abuser in the public eye.
The claim that Holmes was "vindicated in court" seems to be a reference to courts in Georgia and California awarding Holmes custody of his son, even in the face of his ex-wife's allegations. However, it's extremely difficult for mothers to prove abuse perpetrated by the fathers of their children, either toward them or their kids: One 2017 study found when mothers alleged domestic violence in custody cases, fathers still won 73% of the time. Fathers won 69% of such cases when child abuse was alleged.
Vasquez seems to be taking a similar approach to the legal strategy she used when representing Depp, framing Allexis Holmes as embittered and thirsty for money. The suit alleges that she made the allegations only after Richaun Holmes began dating another woman.
Regardless of what happens with this specific case, Vasquez, it seems, has a bright future in supporting men accused of abuse and tearing down women who say they were harmed. After the defamation trial against Heard last year—in which Vasquez mocked Heard for supposedly not having friends and argued that Heard had abused Depp—she briefly took up Kanye West as a client to represent him in all business pursuits. (On top of his virulent antisemitism, West has exhibited abusive and stalking behaviors against his ex-wife, Kim Kardashian.) Vasquez sure knows how to pick 'em.
Heard lost the defamation case despite not even naming Depp in her Washington Post op-ed about surviving abuse. Holmes' case is depressingly similar: It also targets a news outlet's free press rights, and is yet another case of a woman who alleges domestic violence being framed as a vindictive ex for speaking up.
The message to other women and survivors remains the same: This is what you'll face if you come forward. And that message, yet again, comes from Vasquez herself.