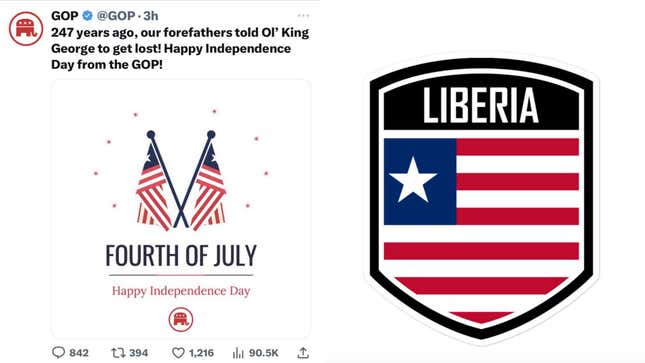 Happy Independence Day! It's time to make fun of some nerds who can't use social media to save their lives.
Infamously Thin-Skinned Man Joins Twitter's Board
At 10:25 am Eastern time on the 4th of July, the Republican Party's official Twitter account tweeted a "Happy Independence Day" message: "247 years ago, our forefathers told Ol' King George to get lost! Happy Independence Day from the GOP!"
But they had to delete the tweet quickly afterward, as Twitter users pointed out that the flag in the image looks a lot closer to the Liberian flag than the American one (though the Liberian flag starts with a white stripe under the blue box).
After removing the post, the GOP account tried to ignore and tweet through the embarrassment, posting a flood of other performatively patriotic shit throughout the day. But they couldn't seem to escape the dunks.
Now, everyone's had a social media slip-up or two in their lives that probably still makes them cringe—but Republicans in Congress seem to have a particularly rough track record with Twitter. House Judiciary Committee Republicans had to quietly delete an infamous tweet in December, 55 days after posting it, that said, "Kanye. Elon. Trump," when it aged super poorly in several ways (most notably, after Kanye literally said, "I love the Nazis."). Sen. Ted Cruz's (R-Texas) official account "liked" a porn tweet—a "mommy porn" tweet, to be more descriptive—and his spokeswoman, slightly misunderstanding the situation, said, "The offensive tweet posted on @tedcruz account earlier has been removed by staff and reported to Twitter." (Cruz later blamed it on a "staffing issue.") Rep. Brian Mast (R-Fla.) once accidentally wished the U.S. Navy a happy birthday with a photo of a Russian battlecruiser. And of course, Donald Trump was so awful on Twitter that he got himself kicked off the whole platform.
Still, the official account of the Republican Party tweeting out the wrong flag on the 4th of July has got to be an instant classic of the genre. Quite a few people down in the Beltway are having a very, very bad day.