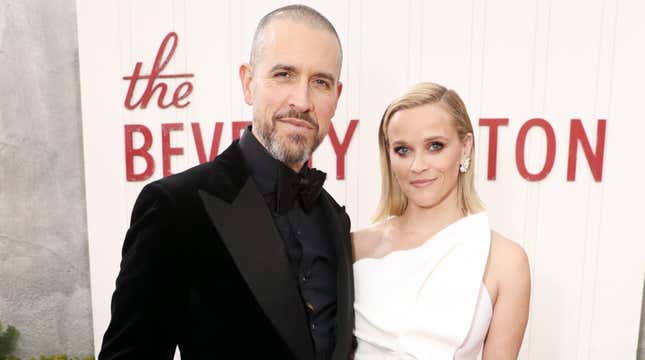 In a Friday news dump last week, Reese Witherspoon announced that she is splitting up with Jim Toth, her husband of nearly 12 years. While other celebrity news has kept us distracted for the past few days, we now finally have glimpse into what may have prompted the end of their marriage. Speaking to Radar Online, at least one "insider" essentially blamed it all on Quibi, the failed streaming platform that is known for...being a failed streaming platform.
Toth worked as an agent at CAA for years and served a whole roster of A-listers, but left the agency to become head of content acquisitions and talent at Quibi in 2019. "Leaving his position at CAA to join Quibi was a huge gamble. At the time, Reese asked Jim if it was worth the risk, but he said he was up for the challenge and felt confident he'd bring home millions," the unnamed insider told Radar Online.
Quibi launched in April 2020, folded by October 2020, and lost nearly $2 billion in that period. At the time, a source said: "Tensions are at an all-time high and friends believe Reese and Jim are at a breaking point—they both want out." Among the fallout of Quibi's frankly epic demise was, apparently, Toth and Witherspoon's relationship.
According to other "sources," the marriage fell apart as a result of a Toth's "midlife crisis"—which is also what prompted him to join Quibi in the first place. "Jim is the one who has changed massively just in the last few years," the source told the Sun. "His personality, his attitude and his whole take on life really changed when he got out of the agency business and decided he was tired of that stuffy world and being in the service business in general."
While Radar Online's insider seems to characterize the split as another casualty of Quibi, the Sun's source also notes that the couple grew apart after coming into more money than either of them knew what to do with through the sale of Witherspoon's production company Hello Sunshine (of which Toth was a founding board member) for $900 million in 2021. The sale made Witherspoon the wealthiest woman in Hollywood, but "ultimately sent them in different directions."
Another source told Page Six there was "no big scandal or drama" driving the couple's split, but they're "just two people who essentially became co-parents and don't really have any romantic feelings for each other anymore." A different source told the tabloid the separation was "a long time coming." Radar Online's source also said that Witherspoon's demanding work schedule played a role, and that the couple had become "cold" toward each other in recent years.
Notably, none of these explanations are in conflict with each other. According to People, Witherspoon is "obviously disappointed and upset," as "she never saw herself getting another divorce." In 2014, when talking about her 2008 divorce from her first husband, Ryan Philippe, Witherspoon talked about how the split had affected her professionally: "You can't really be very creative when you feel like your brain is scrambled eggs," she said on 60 Minutes. "I was just kind of floundering careerwise. I wasn't making things I was passionate about. And it was really clear that audiences weren't responding to anything I was putting out there."
All of this is very fair. But let me just say to you, Reese, woman-to-woman: Somewhere out there is a man who wouldn't gamble his family's future on Quibi amid a midlife crisis, who wouldn't want to go "in different directions" after coming into a shared fortune of nearly $1 billion. If you want him, you'll find him!