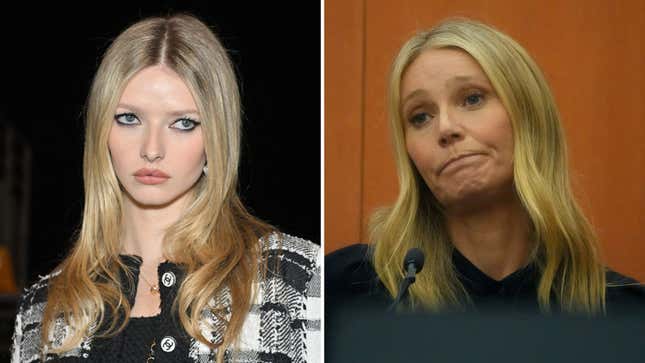 It's day seven of Gwyneth Paltrow's ski collision trial, and while the internet seems mostly rapt by the Goop CEO's steadfast sparkling water and shows of litigation chic, I'm far more fascinated by her commitment to shirking any and all responsibility for the accident. Paltrow has maintained that the plaintiff, 76-year-old retired optometrist Terry Sanderson, actually crashed into her at the luxe Salt Lake City ski resort in 2016. And like Sanderson, who testified that he sustained "at least three broken ribs" and "a concussion" as a result of the collision, she too apparently suffered some post-crash hardships.
Jennifer Hudson Achieves EGOT Status, is True American Idol
"Well, we lost a half day of skiing," Paltrow infamously testified last week with a brow raise that should almost certainly qualify her for a starring role in the next season of The White Lotus. And now, via depositions read in court, her children have clarified exactly what their mother did with the remainder of that harrowing day.
Apple Martin, Paltrow's 18-year-old daughter, said that while she didn't witness the collision on the mountain, her mother seemed "a bit shocked" when they met for lunch in its aftermath. When Martin asked Paltrow what happened, she says her mom replied, "This asshole ran into me. He ran right into my back."
She described Paltrow as having been "very clearly visibly upset" and in pain. "I remember that's why she went to the spa to get a massage," Martin added.

Paltrow's son, Moses, also weighed in on the collision via written testimony, claiming that he didn't witness the crash either, but got a good glimpse of the fallout: "When I skied over, I heard my mom yelling at the guy," Martin recalled. "She was saying something along the lines of, 'What the F-word? You just ran into me.'"
Obviously, attorneys for Paltrow and Sanderson have painted very different portraits of the clash (when his were through questioning Paltrow about her friendship with Taylor Swift and her height). Sanderson's attorneys have called on medical professionals and asserted that their client has suffered in a myriad of ways—cognitively, behaviorally and interpersonally—since the collision. Meanwhile, Paltrow's attorneys have countered that Sanderson is not only at fault for the accident but has a laundry list of preexisting medical ailments and has become "obsessed" with his case against their client.
Though the memes and adjacent content from what's been dubbed "the whitest trial of all time" are very good, I can't help but feel a little sorry for Sanderson. Apparently, no one told him how very difficult it is to get a white woman of obscene wealth to own up to anything—especially one who only two years ago clumsily repented for starring in Shallow Hal.