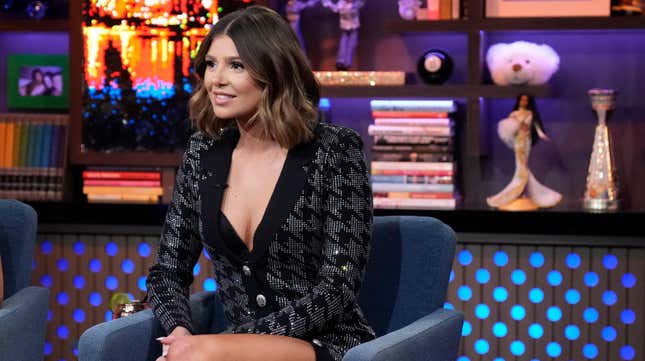 On Friday, Vanderpump Rules' Rachel "Raquel" Leviss checked herself into a voluntary mental health facility for treatment, Entertainment Tonight reports.
Raquel Leviss Told Us 'I'm Like, A Good Person' Just 48 Hours Before #Scandoval
Despite everything ~ going on ~ right now, the decision was—reportedly—made prior to the news of her affair (otherwise known as #Scandoval) with castmate, Tom Sandoval: "Raquel and her family decided before the relationship was discovered that she would enter a voluntary facility for mental health counseling," a source exclusively revealed to ET.
This source added that Leviss had, in fact, planned to seek treatment even before the Vanderpump Rules reunion was filmed in late March. "She was scheduled to go in pre-reunion but decided she wanted to finish her filming commitment," they said. "Bravo and production were aware and in support of her journey towards better mental health."
Both Leviss—and Sandoval, unfortunately—have made explicitly clear where they stand post-news of the affair. Last month, Leviss issued a lengthy apology via an exclusive to ET and via Instagram, which included a vow to seek help and make "healthier choices":
"I am reflecting on my choices, speaking to a counselor and I am learning things about myself such as my patterns of codependency and addiction to being and feeling loved. I have sought emotional validation through intimate connections that are not healthy without regard for my own well-being, sometimes negatively affecting others and often prioritizing the intimate connection over my friendships. I am taking steps to understand my behavior and make healthier choices."
During Sandoval's first sitdown with Howie Mandel this week, he divulged that their first kiss was "magnetic," whilst offering very little remorse for the affair. However, he claimed he and Leviss were currently "on a break," despite multiple public outings.
Welp, good on her for following through on treatment. Here's hoping her first healthy choice is making that break a permanent one.