I am sure that former New York congressman and lazy punchline to every dick joke Anthony Weiner wishes he could quietly fade into obscurity where he can start the process of acclimating to his legacy as a highly embarrassing footnote in the story of how America met its end. But he can't yet, because he could be slapped with child pornography charges.
The Wall Street Journal reports that federal prosecutors are weighing whether or not to bring the charges against him as they conduct a probe into his electronic devices following the revelation that he sent explicit texts to a 15-year-old.
From the WSJ:
In recent weeks, according to some of the people familiar with the matter, attorneys for Mr. Weiner have had discussions with federal prosecutors in Manhattan in hopes of dissuading them from bringing charges, or at least from bringing the most serious one: production of child pornography, which carries a 15-year mandatory minimum prison sentence upon conviction.

These types of discussions can indicate both sides are trying to reach an agreement in which the defendant pleads guilty in exchange for a less-severe charge.
Mr. Weiner could face the production charge, some of the people familiar with the case say, because he allegedly solicited explicit images from the teenager. Prosecutors also are weighing other charges, including receipt of child pornography, for which conviction carries a five-year mandatory minimum, and possession of child pornography, which has no mandatory minimum.
They could also decide not to bring charges at all.
Child pornography is legally defined as "any visual depiction of sexually explicit conduct involving a minor," and pictures may meet the broad requirements if they are "sufficiently sexually suggestive." That is to say, if Weiner obtained sexually explicit images of a teenage girl through his texting, that could qualify as possession of child pornography. The WSJ notes that prosecutors often take into account several factors in child pornography cases, including whether the offender sought out images of a minor, or if the offender knew the person in the image was underage.
G/O Media may get a commission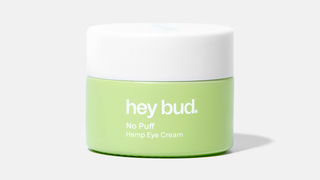 15% off
Hey Bud - No Puff Hemp Eye Cream
You may remember that due to this investigation, Weiner inadvertently led the feds to more Clinton emails when his computer was seized, which may have led Clinton to lose the election, which may have also inadvertently led to the United States becoming a modern autocracy with historically unmatched power, a development that could lead to a third World War that will certainly yield unmatched destruction.
Weiner has recently been spotted riding a horse at sex addiction rehab, and moving in with his mother.