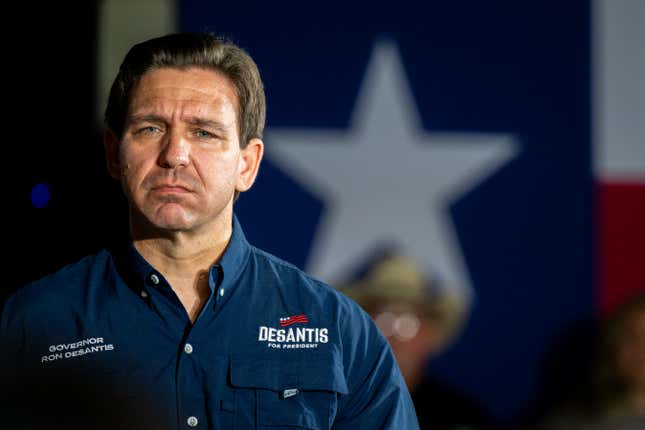 The struggling presidential campaign of Florida Gov. Ron DeSantis (R) has now laid off more than one third of its staff, as reports pile up that DeSantis loves traveling by private jet so much that he spends lavishly on travel when he can't get donors to fly him around.
Samantha Bee's New Show Will Hopefully Teach Nikki Haley 'Something About Her Body'
DeSantis, for the past few months, has been tanking in the polls because he's deeply flawed candidate with the charm of an Android who's managed to alienate local conservative groups and big donors with his terrifying stances on abortion and banning books. As a result, his campaign is burning through cash on travel and payroll. A reasonable person would think he'd cut costs by flying commercial. But nope! He's firing people.
Last week the candidate fired about a dozen staffers, reportedly to cut costs. Before he started the culling, DeSantis had as many as 92 people on the payroll; the next-largest campaign, that of Sen. Tim Scott (R-S.C.), has 54 staffers. Politico reports that a total of 38 DeSantis staffers have been laid off in recent days.

While DeSantis raised $20 million in the second quarter, his first in the race, he spent about 40 percent of that amount. (Plus, about $3 million of the total can only be used for the general election, not the primary.) Payroll was a big cost, but the Washington Post reported Friday the campaign spent $1.5 million on travel in six weeks, which accounted for about 20 percent of its expenses.
The Post couldn't determine exactly how much of that money was for private planes, because some payments are simply listed as "travel." But there are clues: The campaign has paid a Florida LLC called N2024D—which matches the format of airplane tail numbers, N plus five numbers or letters—almost $500,000. However, the campaign did disclose paying almost $100,000 to a company called Empyreal Jet and another $31,000 to Avion Aviation, which shares the same address. The Post analyzed flight-tracking data and believes DeSantis has been using one of Empyreal's Gulfstream IV private planes, and that market rates for his flights would have cost more than $130,000.
Reporter Ben Jacobs shared the Politico story about the additional layoffs with this juicy tidbit: "One GOP operative snipes to me 'DeSantis fired 40+ people because he and the First Lady refuse to fly Delta or American to Des Moines and Manchester.'"
One former DeSantis advisor, who spoke on the condition of anonymity, told the Post: "I can't remember a single time he took a commercial flight."
Meanwhile, both Scott and former U.N. ambassador Nikki Haley are flying commercial, with Haley name-checking both Spirit Airlines and JetBlue in a recent interview.
Good luck touting that blue-collar upbringing now, Ron!