After so many accounts of sexual abuse have come out about Terry Richardson, Bruce Weber, and Mario Testino, the investigation into Weinstein's use of fashion to corral young victims, and the modeling agent who came forward in January to share tales of endemic assault, the Boston Globe's Spotlight team has issued another PSA to steer the fuck clear of fashion photographers. The most famous new offenders are Princess Diana's personal photographer Patrick Demarchelier, as well as photographers for big brands and glossies David Bellemere and Greg Kadel.

In interviews with over fifty models, the Globe has assembled a procedural narrative of agents delivering up teenage models to abusive photographers who are enabled by gatekeepers. The paper reports forced sex, digital penetration, coerced nudity, groping, physical assault, masturbating at/on. Spotlight reports that "nearly 60 percent of models interviewed" attested to workplace abuse, from unwanted touching to rape.
To cherry pick from an abundance of horrors, here are a few representative samples:
Four years ago, [Patrick] Demarchelier allegedly asked a teenage model, "Can I lick your pussy?" and indicated he could make her famous if she said yes. Shocked, the model, who detailed the exchange to the Spotlight Team, said no and left the Paris hotel where the shoot was supposed to take place.
Six other women accuse Demarchelier of fondling, groping genitals, and propositioning them. His former photo editor tells the Globe that she emailed Anna Wintour to warn her about the abuses in October 2017.
"People lie and they tell stories," Demarchelier tells the Globe. "It's ridiculous."
G/O Media may get a commission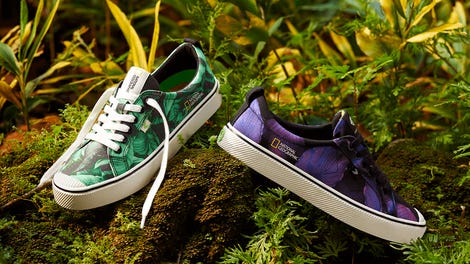 New New New
Cariuma + National Geographic
David Bellemere, who has photographed Kiera Knightly, Eva Mendes, and Natalie Portman, is accused of forcing sex on a model in a nude shoot and propositioning several others. He was allegedly such a well-known abuser that at least two agents claim to have steered clear. He tells the Globe that physical contact was only "directing," and, he says, "I do it to get the best picture. It's not harassment."
Greg Kadel, who has shot Nicole Kidman, Gwyneth Paltrow, and Claire Danes, is accused of raping a teenager. The model says that after telling her agent the next day, her agent said that the assault "was a good thing and hopefully my career would benefit from it."
Kadel's attorney tells the Globe that the above and multiple other accounts of unwanted advances with teens were due to the fact that "he misinterpreted a social situation."
It's a different industry, but same system: famous man gets away with serial abuse because the victim knows that famous man could cut short the victim's career in one word–"difficult"–which Weinstein reportedly labelled actresses Ashley Judd and Mira Sorvino after they refused to have sex with him, to their demise.
After so many reports of abuse, by not only insiders, but by powerful men like Weinstein who used modeling agencies as a "pipeline," as described in an Los Angeles Times exposé, it seems logical that the following investigations name the enablers, men and women, who played along.
Conde Nast told the Globe that it plans to stop working with Bellemere and Kadel, and Victoria's Secret has "suspended" work with Kadel in light of the revelations.