Star fashion photographers Mario Testino and Bruce Weber have been temporarily barred from working with Vogue and Condé Nast, following a report in the New York Times on Saturday alleging the two had a history of sexually exploiting and abusing male models.
According to the Times, 15 models have accused the 71-year-old Weber—famed for his hypersexual ad campaigns for the likes of Abercrombie & Fitch, Calvin Klein, and Ralph Lauren—of engaging in a pattern of "unnecessary nudity and coercive sexual behavior" on shoots. Models say Weber would ask them to go through a series of "breathing exercises" while in the nude, and that these "exercises" usually required them to touch him, touch themselves, and/or permit him to touch them.
Model Joseph Ardolf told the Times that in 2011, when he was 20 years old, he underwent one of Weber's "exercises" during a shoot for Vogue Hommes. Ardolf was taken to a private room and told to strip down so Weber could shoot him in the nude, he said. Then, Ardolf said, Weber touched him:
"I was guiding his hand," Mr. Ardolf said. "We did the chest, the shoulders, the head. Then I finally put his hand on my abs. Did the breathing. Right after that, he forced his hand right on my genitals. I was first in shock. I didn't know what to think. I backed up. I felt very, very uncomfortable and very sick."

"I felt helpless," Mr. Ardolf said. "Like my agency said, he has a lot of power. He's done a lot of large campaigns. That was in the back of my mind. 'I can't screw this up. I already made it this far.'"

Mr. Weber mentioned future campaigns when he followed up with Mr. Ardolf in a series of phone calls in subsequent months. He repeated the exercises over the phone and asked Mr. Ardolf to touch his genitals and stimulate himself, Mr. Ardolf said.
Other models described similar experiences with Weber, with model Robyn Sinclair telling the Times he recalled Weber "putting his fingers in my mouth, and him grabbing my privates." Many said they were worried turning Weber down or refusing to take off their clothes would cost them future gigs, considering what a powerhouse he is in the industry. Recently, a male model filed a lawsuit against Weber, accusing him of sucking on the model's fingers and forcing the him to touch himself at a casting session at Weber's studio in December 2014.
"It's presented as an option, but it isn't really," female model Erin Williams, who worked with Weber on shoots for Abercrombie & Fitch, said. "The models that didn't go nude were always cut on day two, and those who did would stay for additional shoot days. The boys who would socialize with Bruce after the shoots, alone in his hotel room, would get booked for longer with the carrot of a major campaign being dangled in front of them."
G/O Media may get a commission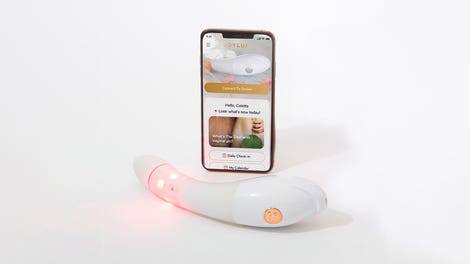 $50 Off
Joylux vFit Gold Device
Meanwhile, Testino, a Vogue and Vanity Fair veteran who recently shot Serena Williams's Vogue profile, has been accused of repeatedly sexually harassing and in some cases even groping 13 male models and assistants over the last two decades. "He misbehaved in hotel rooms, the backs of cars and on first-class flights," former assistant Roman Barrett said. "Then things would go back to normal, and that made you feel gaslighted."
Model Ryan Locke told the Times Testino was a "sexual predator," recalling a shoot for Gucci in the 1990s in which Testino, who was shooting Locke on a bed, cleared the set. "He shuts the door and locks it. Then he crawls on the bed, climbs on top of me and says, 'I'm the girl, you're the boy,'" Locke said. "I went at him, like, you better get away. I threw the towel on him, put my clothes on and walked out."
Hugo Tillman, who started working as Testino's assistant in 1996, said he was once been subjected to an aggressive unwanted advance from Testino, one that Testino's attorneys have denied happened:
One night after a dinner, Mr. Tillman said the photographer grabbed him on the street and tried to kiss him. A few weeks later, while on a business trip, Mr. Tillman met Mr. Testino in his hotel room. Mr. Testino demanded that the assistant roll him a joint, then threw him down on a bed, climbed on top of him and pinned down his arms, Mr. Tillman said. Mr. Testino's brother came into the room and made the photographer get off Mr. Tillman.
Testino's attorneys told the Times their client's accusers "cannot be considered reliable sources," and in a statement, Weber told the Times, "I'm completely shocked and saddened by the outrageous claims being made against me, which I absolutely deny." But the refutation from both parties were not enough for Vogue editor-in-chief and Conde Nast artistic director Anna Wintour, who put out a statement on Saturday announcing Condé Nast and Vogue would not work with Weber and Testino. "I believe strongly in the value of remorse and forgiveness, but I take the allegations very seriously, and we at Condé Nast have decided to put our working relationship with both photographers on hold for the foreseeable future," she said.
Last year, Condé Nast International apparently blacklisted photographer Terry Richardson after a slew of female models accused him of inappropriate sexual behavior. That prompted model Edie Campbell to write an open letter to Women's Wear Daily calling the fashion industry out on normalizing harassment from photographers and other industry bigwigs, noting that both male and female models suffered enormously at their hands.
"Abuse suffered by young men is more complex. I would assume that it is more difficult for the victims to speak out," she wrote, noting there was more of an emasculating "stigma" attached to sexual abuse for men. "The global conversation about sexual abuse has been (possibly rightly) focused on female victims. The statistics add up. But when you zoom in on the fashion industry, I would assume that the numbers are much more evenly split between male and female victims."