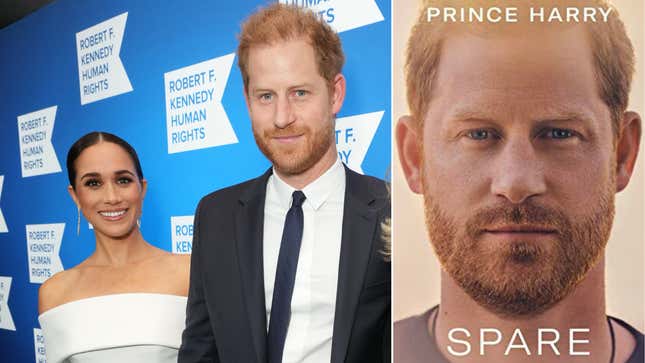 For years, the goings on of the British royals have been the subject of much speculation and a fair bit of secrecy, with tidbits of information usually only leaking out when it was convenient for the palace—or when something in their militant PR plan spun wildly out of control. But that's all changed. You've heard of a charm offensive? Well, Prince Harry andMeghan Markle have introduced us to its cousin, the TMI offensive. Harry's memoir, Spare, comes out on Tuesday, and the leaks from it have whipped the internet's gossipers into a frenzy (including us!).
Frankly, I've been relatively disinterested in everything pertaining to this debacle; I'm just not a "royal tea" person—though I fully respect those who are. I am, however, something of a petty gossip enthusiast, so Spare has really given me a lot to think about.

However, there are only so many stories we have the stomach for here at Jezebel, so we decided to round up everything we've learned—in many cases, against our will—from the Spare leaks so far. We've got Harry's observations about his brother Prince William's hairline (meow!), multiple revelations about his own penis (truly, no one asked), and some details about how he lost his virginity.
For better or worse, the man really dishes. To that end, I say to Harry what I say to most people who over-share: You're brave for this—arguably too brave.