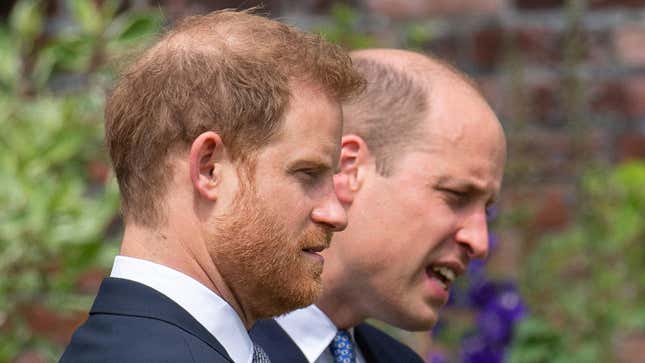 We're learning a lot lately about what went down in the British royal family after Prince Harry chose Meghan Markle, a Black American actress, to be his wife. And now the Guardian has obtained a copy of Harry's forthcoming memoir, Spare, in which the younger prince reveals how a fight about Markle came to blows between him and his older brother, William.
"It all happened so fast. So very fast," Harry wrote. "He grabbed me by the collar, ripping my necklace, and he knocked me to the floor. I landed on the dog's bowl, which cracked under my back, the pieces cutting into me. I lay there for a moment, dazed, then got to my feet and told him to get out."
Harry goes on to explain that the conflict started because William complained about Markle being "difficult," "rude," and "abrasive," to which Harry responded that William was simply parroting the racist press narrative about his non-white wife. (The title of Harry's book, Spare, refers to his position in line to the throne: William is the heir, and Harry is the "spare"—which means any threat that Harry and Meghan pose to the royal family is a threat to the monarchy writ large, and William's entire inheritance.)
Harry also wrote that he had "scrapes and bruises" on his back after the incident, per the Guardian, and that William advised him to get a therapist, insisting: "You don't need to tell Meg about this."
Harry and Meghan have expressed pretty clearly, via their Oprah interview and Netflix docuseries Harry & Meghan, how poorly they were treated by the Firm and the British press after they were married—mainly because Meghan is American and Black. Harry's new memoir drops next week, and the two are planning another Netflix series inspired by Nelson Mandela. Clearly, they have a lot to say about how they were treated in their first few years of marriage—and I imagine the monarchy isn't going to receive it very well.